In this article, you will find our compiled Senior High School Teachers Guide. We aim to complete all the Senior High School Teachers Guide to make them available to our fellow teachers and help them complete their resources to make their efforts more directed into the actual teaching process.
You will find the Senior High School Teachers Guide download links at the bottom of this article. If you have time, please read the article below for additional background about the K-12 curriculum.
THE GOALS AND IMPORTANCE OF SENIOR HIGH SCHOOL
Senior High School (SHS) refers to Grades 11 and 12, the last two years of the K to 12 Basic Education Program. In SHS, students are required to go through a core curriculum and subjects under a track of their choice. The SHS Curriculum, as part of the K to 12 Program, aims to produce graduates who have the following characteristics:
Holistically developed;
Equipped with 21st century skills (i.e., learning and innovation skills, life and career skills, communication skills, and information media and technology skills); and
Prepared for the future, be it in pursuit of higher education or acquisition of middle-level skills, or geared towards employment or entrepreneurship.
A product of consultations among the Department of Education (DepEd), Commission on Higher Education (CHED), Technical Education and Skills Development Authority (TESDA), other government agencies and labor market partners, the SHS curriculum was developed with the learners' livelihood and further education readiness in mind. It recognizes the learners' needs, characteristics, and possible choices while also considering the learners' community, culture, competencies, and career options.
Hence, by establishing an effective SHS, we are ensuring that the learners (1) benefit from an education system suited for the 21st century, (2) are prepared for what they want to be after high school, and (3) are equipped with the knowledge and skills to pursue better lives for themselves, their families, and communities.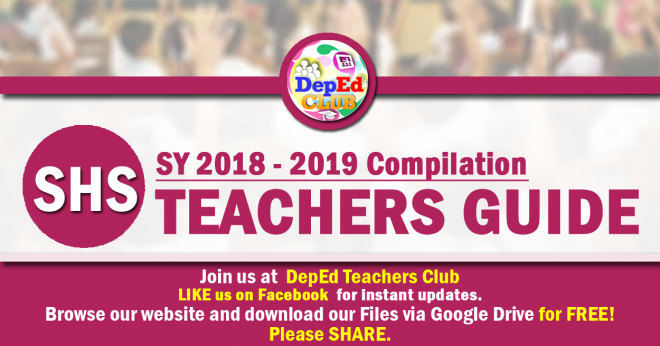 Envisioning A Successful SHS
SHS is an essential component of the K to 12 Program. Thus, it is difficult to envision a successful SHS without describing the attributes of a successful K to 12 Program.
The K to 12 Program is a transformative vehicle for local and national development. Through the provision of quality education for all, the K to 12 Program intends to develop and harness the skills and competencies of the Filipino youth, leading to the development of self, community, and nation.
The K to 12 Basic Education Program has the following features* :
The inclusion of Kindergarten education as part of basic education;
The use of the learner's dominant language (mother tongue) as the foundational language of education;
The assurance of child-friendly schools and classrooms that protect learners as they develop into well-rounded, happy, and smart individuals;
Schools that offer programs for all types of learners;
The provision of locally-relevant curriculum concentration areas and student guidance programs that will foster good career decision– making and planning among the students;
Provision and utilization of Information and Communications Technology (ICT) as a strategy to improve the access to and quality of education;
The coherence of the learner outcomes with the prevailing Philippine Qualifications Framework (PQF) and the ASEAN Qualifications Reference Framework (AQRF);
The inclusion of Senior High School in the basic education program;
The consistency of the curriculum with international benchmarks for outcomes, content, and pedagogies;
The assurance of college readiness for all secondary school graduates;
The inclusion of Technical-Vocational-Livelihood (TVL) skills development in view of job/industry preparation;
The recognition of student interest and talent as well as community culture in the Sports/Arts and Design tracks of Senior High School;
Learners have access to all Senior High School tracks, with sufficient and diverse human, institutional, and instructional resources;
The DepEd, CHED, TESDA, private schools, industry, and other relevant stakeholders collaborate in planning and implementing K to 12, especially Senior High School;
A clearly articulated and well-executed assessment system for all the levels of education, which should include DepEd and TESDA assessments;
Eighty percent (80%) hiring or business-launching rate within three months of graduation for learners under the Technical-VocationalLivelihood track;
Continued efforts to improve education outcomes for all Filipinos.
A successful SHS is consistent and aligned with the features stated here. This is what you, as School Head, should work towards and should use as guide as you gear up for SHS.
Source: Department of Education
We are always on the process of uploading Senior High School Teachers Guide. As requested, here are the file links. The remaining files will be uploaded soon. Please check this section from time to time.
Download these files for Free. No Adfly. Virus Free. Safer. Faster.
Available Senior High School Teachers Guide for Download
CORE SUBJECTS
SPECIALIZED SUBJECT | ACADEMIC – STEM