UPDATE: Sample of Complete and Detailed RPMS Portfolios with Ratings.
According to DepEd, RPMS  or the Results-Based Performance Management System is being implemented in consonance with the Civil Service Commission's (CSC) Strategic Performance Management System (SPMS) (Sample RPMS Portfolios and Covers Design Templates below). It follows the four-phase cycle of SPMS prescribed in CSC Memorandum Circular No. 6, s. 2012 and aims to ensure that both teaching and non-teaching personnel focus work efforts toward achieving the Department's vision, mission, values, and strategic priorities. As stipulated in DepEd Order No. 2, s. 2015 (Guidelines on the Establishment and Implementation of RPMS in DepEd), RPMS is a systemic mechanism to manage, monitor and measure performance, and identify human resource and organizational development needs to enable continuous work improvement and individual growth.
As a learner-centered institution, the Department of Education (DepEd) is committed to continuously improve itself to better serve the Filipino learners and the community. The adoption of the SPMS in DepEd strengthens the culture of performance and accountability in the agency, with the DepEd's mandate, vision and mission at its core.
There is a need to concretize the linkage between the organizational thrusts and the performance management system. It is important to ensure organizational effectiveness and track individual improvement and efficiency by cascading the institutional accountabilities to the various levels, units and individual personnel, as anchored on the establishment of a rational and factual basis for performance targets and measures. Finally, it is necessary to link the SPMS with other systems relating to human resources and to ensure adherence to the principle of performance-based tenure and incentives.
The RPMS shall align the performance targets and accomplishments with the Department's mandate, vision, mission and strategic goals. It shall ensure 100% results orientation vis-a-vis the planned targets. On the other hand, the ratee's demonstration of the required competencies shall be monitored for developmental purposes only.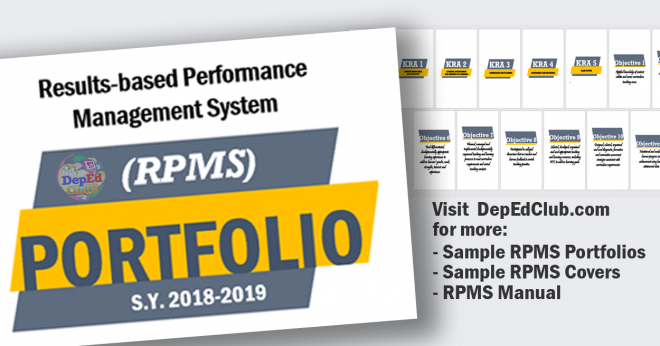 The RPMS cycle shall cover performance for one whole year. All school-based personnel shall follow a performance cycle starting in April of the current year and ending in March of the following year; while non school-based personnel shall follow a performance cycle starting in January and ending in December.
The performance planning and commitment shall be done prior to the beginning of the performance cycle; while the performance monitoring and coaching shall take place immediately after Phase I, and continue throughout the performance cycle. The performance review and evaluation, as well as the performance rewarding and development planning shall be done at the end of the performance cycle.
Source: Department of Education
Sample of Complete and Detailed RPMS Portfolios with Ratings
Sample RPMS Portfolio  and RPMS Covers
Results-Based Performance Management System
(MS Word Editable) Design Templates
Submitted via DepEd Teachers Club FaceBook Group:
By Teacher Raquel S. Natad 
By Teacher Lhei Francel

By Teacher Celeste Dailisan Villaran

By Teacher Elmera L. Cordero

By Teacher Joy Valenciano Yu
By Teacher Florida P. Cañete
By Teacher May Alba Albero Araño

By Teacher Savanna Cunningham / Teacher

Eric John Vegafria

By Teacher Jammie A. Esguerra
By Teacher Donnalin Sanchez Oliveros
RPMS Portfolios and RPMS Covers
Submitted by DepEd Teachers Club Contributors via DepEdClub@gmail.com
RPMS Eartags / Page Tags / RPMS Tabbings
Other RPMS Forms and Files
To guide you more about RPMS, you may continue read the following:
IPCRF Files
Clarifications from DepEd BHROD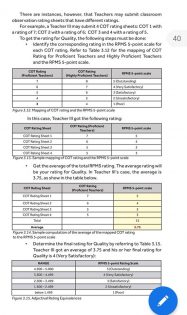 DepEd-BHROD: April 12 at 9:11 AM · 
BASAHIN NATIN!

Ilang paglilinaw tungkol sa Classroom Observation Tool (COT) bilang pangunahing Means of Verification (MOV) sa RPMS:

1. Ang COT ang main MOV sa mga classroom observable objectives. Ang mga ito ay Objectives 1, 2, 3, 4, 5, 6, 7, 9, 10.
2. Bawat COT ay nangangailangan ng supporting MOV.
Pumili lamang sa mga sumusunod:
a. Lesson plan
b. Instructional materials
c. Performance tasks/test materials
d. Atbp

Tandaan: Hindi lahat.
BASAHING MAIGI ANG RPMS TOOL.

3. Mayroong prescribed checklist kung ilang objective ang io-observe sa isang observation period. Merong 4 observation period.

Ang RPMS for Proficient objectives 1, 2, 3, 4, 5, 7 ay io-observe sa 4 na observation periods. Ang objective 6 ay io-observe sa observation periods 1 and 3, objective 8 ay sa observation period 2 at ang objective 10 ay observation period 4.

Sa RPMS for Highly Proficient, ang lahat ng classroom observable objectives 1-5 ay io-observe sa lahat ng observation period.

4. Hindi total ng lahat ng indicators ang rating sa COT. Tinitingnan ang rating PER OBJECTIVE.

Halimbawa, para makuha ang rating sa Objective 1, kukunin nyo ang rating ng Objective 1 sa lahat ng COT nyo. Iyun ang ikocompute nyo.

5. Hindi ina-average ang rating ng COT. Sa pagcompute ng rating ng COT, magkakaroon muna ng transmutation ng rating ng COT sa RPMS rating scale. Ang transmuted rating ang i-average. Ito ang magiging basehan ng RPMS rating for Quality.

Halimbawa, si Teacher Kate ay ipinasang 4 COT na iba-iba ang rating.

COT 1 – 5
COT 2 – 6
COT 3 – 6
COT 4 – 7

Transmutation:
COT 1 – 5 = 3
COT 2 – 6 = 4
COT 3 – 6 = 4
COT 4 – 7 = 5
Total: 16/4
Average: 4
Adjectival Rating: Very Satisfactory

6. Kung ilan po ang sinubmit na COT, iyon din po ang bilang ng divisor. Kung dalawa lang po ang COT, dapat divided by 2.

7. 4 COT ang kelangang ipasa para makakuha ng Outstanding. Sa year 1, maaaring di makakuha ng 4 COT agad. Okay lang po yun, pero bababa ang rating sa Efficiency.

8. Bilang MOV, maaaring gamitin ang COT at ang supporting MOV nito (e.g. LP) sa Objectives 1-7. Di na kelangang iphotocopy isa-isa per MOV. Pero pwede pa ring iphotocopy 7-9 times kung nanaisin.

Ating basahin ng mabuti ang RPMS Manual para lubos nating maintindihan ang proseso.
P.S.