Good day fellow Teachers! We had a lot of struggles in our beloved profession but we made it to this new school year together – supporting and sharing our knowledge for the welfare of each other. We are always there for each other as we dream of a smooth and productive school year. Together we will withstand any challenge. And now, we have uploaded Grade 6 Whole Year Weekly Home Learning Plan | Grade 6 WHLP.
.
Thanks to all our Contributors, File Editors and Tech Volunteers who selflessly manage our website contents as well as our social media accounts. Thanks to all of you for your continued support and your collective ideas.
And now as we start on another journey with our students and new challenges that are yet to come, we shall stick together as one – a solid DepEd Teachers Club!
Featured reading:
Developing and Administering Formative Assessment Activities
You can design formative assessment activities to assess and improve the learning of your learners. Follow the steps below to develop the activities.
Step 1:
Identify the curriculum standards and competencies to be learned and assessed. Identify the standards and competencies to be learned and assessed. Try to cluster a few competencies that link together, develop a block of lesson plans to teach them in a holistic, integrated way, and assess them with just one assessment activity.
Step 2:
Develop the assessment criteria. Analyze the competencies to be assessed and unpack or expand them, showing your assessment criteria, or the knowledge and skills that learners will need to demonstrate. The criteria will help to guide the learners in carrying out the teaching and learning activities prior to the assessment. Use them as a basis for judging the standard of learners' work in the assessment activity. Sometimes you can negotiate these criteria with your learners and develop them together. Write the criteria in language learners will understand.
At the start of the block of learning go through the assessment criteria with your learners. Discuss and explain what each criterion means. Write the criteria on a chart in your room while learners are developing the knowledge and skills. Keep referring to the chart while the learners are learning.
Step 3:
Identify the assessment method/s that will give learners the best chance to demonstrate their learning. Identify which assessment method will give learners the best chance to demonstrate their learning. Is it observation, talking to learners, analyzing the product they make, or a test?
Step 4:
Design the assessment activities. Develop assessment activities to assess the learners' knowledge and skills. What task or tasks will you ask learners to do to demonstrate their learning? Remember an activity does not always have to be a test or written task.
Sometimes it is interesting to give learners a choice in how they demonstrate their learning. For the activity in the example, instead of writing their sentences on paper, some learners might prefer to prepare a diagram or model with captions using periods and capital letters. Others may come up with a slide presentation to show the use of the periods and capital letters. The important thing is that learners can fully show what they know, understand, and can do. A way to manage this is by learners agreeing with you on how they plan to demonstrate their learning.
Step 5:
Develop and undertake the teaching and learning activities. Plan learner-centered activities and explicit teaching designed to help learners develop the required competencies.
You may also refer to the relevant teachers' guide, learning resources, supplementary resources, the DepEd Learning Resource Materials Development System (LRMDS), and other internet resources for suitable activities. Document the activities in your Detailed Lesson Plans (DLPs) or Daily Lesson Logs (DLLs). Engage learners in the learning and give them a chance to consolidate new knowledge and practice skills before you formally assess them.
Step 6:
Undertake the assessment activities. As you conduct an assessment activity, tell the learners you are assessing them and encourage them to do their best. Remind them that they have to demonstrate all of the assessment criteria. Work progressively though the lessons in the Daily Lesson Log, incorporating the assessment activities as they arise. Note how the assessment activities are integrated and embedded within the teaching and learning activities. This emphasizes how in formative.
assessment learners are assessed while they are learning. After the learners have had some practice on the teaching and learning activities with oral feedback, give them the written assessment activity to complete. Remember though that some assessment activities, for example a project, will take more than one lesson to complete.
Step 7:
Record evidence of learning. Record the performance of each learner by selecting the most suitable recording method: class checklist, observation grid, anecdotal record, comments on learners' work, storing work samples in portfolios, taking photographs, or using digital technology. You can also write comments on the checklist and on learners' work that are linked to the assessment criteria. Recording can happen during the lesson if you are using observation or talking to learners as your assessment methods. If you are analyzing learner's products or testing them, you will have to mark their work after the lesson. In marking, use the assessment criteria, rubrics, and selected recording method.
Step 8:
Make consistent judgements about learning. Use the assessment criteria and rubrics objectively to determine the quality of each learner's work. Learners can also use the assessment criteria and rubrics to judge their own work (self-assessment) or that of their peers (peer assessment).
Step 9:
Give immediate feedback. Use the assessment criteria to give explicit feedback to the learners about their work. You can give the feedback orally or in writing but do this immediately after the activity.
Step 10:
Use assessment information to review your teaching. Reflect on your teaching and decide if there are learners who need assistance, further practice, or more challenging activities. Use this information to shape your next steps and to modify your teaching. Remember the aim is to improve the learning of all learners in your class.
Continue reading here: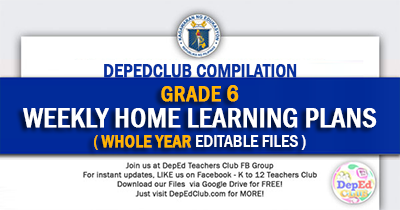 Grade 6 Whole Year Weekly Home Learning Plan
GRADE 6 – 1st Quarter Weekly Home Learning Plan
GRADE 6 – 2nd Quarter Weekly Home Learning Plan
GRADE 6 – 3rd Quarter Weekly Home Learning Plan
GRADE 6 – 4th Quarter Weekly Home Learning Plan
IMPORTANT: HOW TO DOWLOAD FILES IN GOOGLE DRIVE
FOR MS OFFICE FILES:
1. Click on the file link in our website.
2. You will be redirected to the file location via Google Drive.
3. On the upper left side of your screen, Go to FILE menu. Click DOWNLOAD, then Select Microsoft Word for the editable file format.
FOR OTHER FILES:
1. On the upper right hand corner of your screen, look for this button to Download the file —>

If you encounter an Error while downloading the files, please Log-in to your Gmail account (Here – mail.google.com) , then try again to click the Download Link in Google Drive. Thank you.
Additional files to be uploaded soon.
We are always on the process of uploading new files.
For additional updates and unannounced uploads, please visit this section from time to time.
Like us on Facebook to get INSTANT UPDATES. CLICK HERE
You can also BOOKMARK this page in your web browser by clicking Ctrl+D in your keyboard for faster access in the future. Thank you fellow Teachers.
We at DepEd Teachers Club are always grateful to all our File Authors and File Contributors. Credit goes to all of them. Let us all give them thanks and show our support for all their works.
We are also thankful for all our File Editors, Sharers, Tech Volunteers and fellow Teachers for helping us and making this kind of service possible.