Good day fellow Teachers! We had a lot of struggles in our beloved profession but we made it to this new school year together – supporting and sharing our knowledge for the welfare of each other. We are always there for each other as we dream of a smooth and productive school year. Together we will withstand any challenge. And now, we have uploaded Grade 5 Whole Year Weekly Home Learning Plan | Grade 5 WHLP.
.
Thanks to all our Contributors, File Editors and Tech Volunteers who selflessly manage our website contents as well as our social media accounts. Thanks to all of you for your continued support and your collective ideas.
And now as we start on another journey with our students and new challenges that are yet to come, we shall stick together as one – a solid DepEd Teachers Club!
Featured reading:
Guidelines for Teachers in Determining the Appropriate Performance Task for a Learning Standard
It is strongly suggested that teachers use innovative and suitable techniques in designing and planning performance tasks. This may serve as a guide in choosing or deciding what performance task is most appropriate for a certain learning standard, and it is recommended that teachers conceptualize and contextualize performance tasks depending on the needs and nature of their learners.
The following are the general characteristics of a performance task that is complex, authentic, and appropriate to the learning targets (McTighe et. al., 2020):
It heeds the application of knowledge and skills, and not just recall or recognition of a concept. A performance task should be an evidence of the learners' understanding and analysis of the lesson.
It is not limited to a single correct answer. Performance tasks should encourage creativity and individuality among learners and should diminish the notion that there is only one correct way of thinking or there is only one way of solving problems.
It should be contextualized based on real-life problems. An authentic performance task should mirror realistic conditions where students can pose possible solutions.
It should provide proof of the learners' understanding through transfer. An appropriate performance task should subject the learners to a new situation where they can apply the concepts they have learned.
It should be multi-faceted or multiprocedural. Performance tasks should involve multiple steps and standards to evaluate several learning targets.
It should be integrative with other learning areas and with 21st century skills. A good performance task exposes the need of applying knowledge from other learning areas and develop and/or showcase their 21st century skills. Meaningful learning is achieved when the learners are assessed in a way that they are encouraged to see how learning areas are interconnected.
It should have a clear and well-established scoring rubrics/guideline with relevant criteria. An appropriate performance task does not yield to a single correct answer; hence, it should provide a clear description of how learners are graded and evaluated. A well-established scoring tool enables an objective-based evaluation which also gauges varying levels of proficiency
Continue reading here: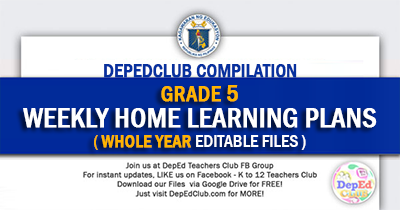 Grade 5 Whole Year Weekly Home Learning Plan
GRADE 5 – 1st Quarter Weekly Home Learning Plan
GRADE 5 – 2nd Quarter Weekly Home Learning Plan
GRADE 5 – 3rd Quarter Weekly Home Learning Plan
GRADE 5 – 4th Quarter Weekly Home Learning Plan
IMPORTANT: HOW TO DOWLOAD FILES IN GOOGLE DRIVE
FOR MS OFFICE FILES:
1. Click on the file link in our website.
2. You will be redirected to the file location via Google Drive.
3. On the upper left side of your screen, Go to FILE menu. Click DOWNLOAD, then Select Microsoft Word for the editable file format.
FOR OTHER FILES:
1. On the upper right hand corner of your screen, look for this button to Download the file —>

If you encounter an Error while downloading the files, please Log-in to your Gmail account (Here – mail.google.com) , then try again to click the Download Link in Google Drive. Thank you.
Additional files to be uploaded soon.
We are always on the process of uploading new files.
For additional updates and unannounced uploads, please visit this section from time to time.
Like us on Facebook to get INSTANT UPDATES. CLICK HERE
You can also BOOKMARK this page in your web browser by clicking Ctrl+D in your keyboard for faster access in the future. Thank you fellow Teachers.
We at DepEd Teachers Club are always grateful to all our File Authors and File Contributors. Credit goes to all of them. Let us all give them thanks and show our support for all their works.
We are also thankful for all our File Editors, Sharers, Tech Volunteers and fellow Teachers for helping us and making this kind of service possible.