In this article, you will find our compiled GRADE 6 Teachers Guide. We aim to complete all the GRADE 6 Teachers Guide to make them available to our fellow teachers and help them complete their resources to make their efforts more directed into the actual teaching process.
You will find the GRADE 6 Teachers Guide download links at the bottom of this article. If you have time, please read the article below for additional background about the K-12 curriculum.
CONCEPTUAL FRAMEWORK OF SCIENCE EDUCATION
Science education aims to develop scientific literacy among learners that will prepare them to be informed and participative citizens who are able to make judgments and decisions regarding applications of scientific knowledge that may have social, health, or environmental impacts.
The science curriculum recognizes the place of science and technology in everyday human affairs. It integrates science and technology in the social, economic, personal and ethical aspects of life. The science curriculum promotes a strong link between science and technology, including indigenous technology, thus preserving our country's cultural heritage.
The K to 12 science curriculum will provide learners with a repertoire of competencies important in the world of work and in a knowledge-based society. It envisions the development of scientifically, technologically, and environmentally literate and productive members of society who are critical problem solvers, responsible stewards of nature, innovative and creative citizens, informed decision makers, and effective communicators. This curriculum is designed around the three domains of learning science: understanding and applying scientific knowledge in local setting as well as global context whenever possible, performing scientific processes and skills, and developing and demonstrating scientific attitudes and values. The acquisition of these domains is facilitated using the following approaches: multi/interdisciplinary approach, science-technology-society approach, contextual learning, problem/issue-based learning, and inquiry-based approach. The approaches are based on sound educational pedagogy namely, constructivism, social cognition learning model, learning style theory, and brain-based learning.
Science content and science processes are intertwined in the K to 12 Curriculum. Without the content, learners will have difficulty utilizing science process skills since these processes are best learned in context. Organizing the curriculum around situations and problems that challenge and arouse learners' curiosity motivates them to learn and appreciate science as relevant and useful. Rather than relying solely on textbooks, varied hands-on, minds-on, and hearts-on activities will be used to develop learners' interest and let them become active learners.
As a whole, the K to 12 science curriculum is learner-centered and inquiry – based, emphasizing the use of evidence in constructing explanations. Concepts and skills in Life Sciences, Physics, Chemistry, and Earth Sciences are presented with increasing levels of complexity from one grade level to another in spiral progression, thus paving the way to a deeper understanding of core concepts. The integration across science topics and other disciplines will lead to a meaningful understanding of concepts and its application to real-life situations
Source: Department of Education
———-
We are always on the process of uploading GRADE 6 Teachers Guide. As requested, here are the file links. The remaining files will be uploaded soon. Please check this section from time to time.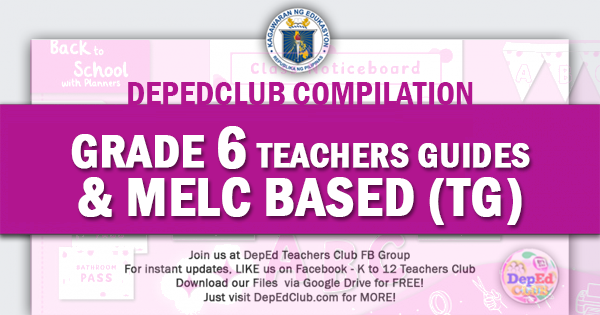 GRADE 6 Teachers Guide & MELC Based TG | Links FIXED!
ARALING PANLIPUNAN 6 Teacher's Guide
ENGLISH 6 Teacher's Guide
EPP 6 Teacher's Guide
ESP 6 Teacher's Guide
FILIPINO 6 Teacher's Guide
MAPEH 6 Teacher's Guide
MATHEMATICS 6 Teacher's Guide
SCIENCE 6 Teacher's Guide
Other Teacher's Guides:
New! MELC Based Teachers Guides
IMPORTANT: HOW TO DOWLOAD FILES IN GOOGLE DRIVE
FOR MS OFFICE FILES:
1. Click on the file link in our website.

2. You will be redirected to the file location via Google Drive.

3. On the upper left side of your screen, Go to FILE menu. Click DOWNLOAD, then Select Microsoft Word for the editable file format.
FOR OTHER FILES:
1. On the upper right hand corner of your screen, look for the Down Arrow Download Button just as below:

If you encounter an Error while downloading the files, please Log-in to your Gmail account (Here – mail.google.com) , then try again to click the Download Link in Google Drive. Thank you.
Additional files to be uploaded soon.
We are always on the process of uploading new files.
For additional updates and unannounced uploads, please visit this section from time to time.
Like us on Facebook to get INSTANT UPDATES. CLICK HERE
You can also BOOKMARK this page in your web browser by clicking Ctrl+D in your keyboard for faster access in the future. Thank you fellow Teachers.
We at DepEd Teachers Club are always grateful to all our File Authors and File Contributors. Credit goes to all of them. Let us all give them thanks and show our support for all their works.
We are also thankful for all our File Editors, Sharers, Tech Volunteers and fellow Teachers for helping us and making this kind of service possible.
MORE DOWNLOADABLE FILES