In this article, you will find our compiled GRADE 6 Learners Materials (LM). We aim to complete all the GRADE 6 Learners Materials (LM) to make them available to our fellow teachers and help them complete their resources to make their efforts more directed into the actual teaching process.
You will find the download links for the Learners / Learning Materials at the bottom of this article. If you have time, you may read the article below from the Department of Education.
—–
HOW ARE THE LEARNING MATERIALS USED?
Programmed Teaching Modules
There are 60 programmed teaching modules which are used by the Instructional Supervisor (IS) in preparing instructional/visual aids to be used by a trained programmed teacher. The IS also uses these modules in training the programmed teachers prior to their conduct of program teaching. Level 6 pupils act as programmed teachers for Level 1; Level 5 for Level 3; and Level 4 for Level 2.
Peer-Group Learning Modules
The peer-group learning modules are selfinstructional modules used by learners starting at Level 3 in the second semester and learners in Levels 4 to 6. In the case of Level 3 learners, the learning mode is called transition learning. At this stage, a Level 5 pupil who was a programmed teacher during the first semester, now assists the Level 3 pupils in doing peer-group learning. As in Levels 4 to 6, each member in the transition learning group has a copy of the peer-group learning module they are studying.
For Levels 4 to 6, the peer-group learning modules are used as their main learning materials, with every member of the group having a copy of the module. The peer-group leader has a Leader's Book containing the feedback in the exercises found in the learning modules. The peer-group leader leads in the discussion of the lessons in the peer-group learning modules. Itinerant Learning Module The itinerant learning modules are modules in other subject areas such as Music, Arts, PE, EPP, which are designed to be handled by an Itinerant Teacher. The itinerant modules currently available in IMPACT are limited and these are for the subjects Sining Pantahanan (Home Economics) and Computer. Thus, subjects in MAPE (Music, Arts, PE, and EPP) are still handled by subject specialist teachers, who can also be the Resource Teachers, if there are no itinerant teachers to handle the subjects. As earlier described, an itinerant teacher is someone who travels from one IMPACT school to another to handle special subjects such as PE and Music in cluster of IMPACT schools within the district.
Technology Enhanced-Materials
As enhancement to the learning modules, audio and video clips from the ELSA project have been included as part of the learning materials. These audio and video clips run for two to three minutes as supplement to the learning content in the learning modules. These are usually shown during Resource Teaching period in which the Resource Teacher in Science, English, and Math, upon proper determination, uses these materials to enhance the contents or lessons in the peer-group learning modules. In this session, the Resource Teacher also conducts the lesson with emphasis on developing in the learners higher order thinking skills.
Post Tests
Every peer-group learning module has a post test that every learner has to successfully pass (at least with a criterion reference of 80 per cent to indicate mastery) before he/she can move to the next module for that subject area. The results of the first post test taken should be recorded and used for computing grades. However, if learners fail the set criterion, a 25 re-take of the test will be done after a review of lessons. The scores will not be recorded but used as indicator if the learner is ready to move to the next learning module. If the learner still fails to get the criterion set after the second re-take, he/she should be given remediation or tutoring by the RT or IS or Testing Teachers as the case may be.
There are already prepared post tests for most of the peer-group learning modules which the Testing Teachers can use. However, it is also encouraged that Testing Teachers prepare new sets of test items for each of the learning modules until the school has its own item bank from which to draw test items to be used in the posttests for each of the modules. Testing teachers can undertake item analysis process to have a pool of good test items. To know more about the role and functions of Testing Teachers, please see pages 52 to 53 of this Guidebook under the ―Roles and Functions of School Staff in the IMPACT system.
Leader's Book
Each of the peer-group learning modules also has accompanying Leader's Book to be used by the peergroup leader in leading the peer-group discussion. The Leader's Book contains the answer keys to the exercises in the peer-group learning modules. Leaders who have been trained earlier by their Resource Teacher and/or Instructional Supervisor are also not allowed to look at the answer keys in the Leader's Book since they are also required to answer the exercises in the modules. Being honest is emphasized during trainings of peer-group leaders
——-
We are always on the process of uploading GRADE 6 Learners Materials (LM). As requested, here are the file links. The remaining files will be uploaded soon. Please check this section from time to time.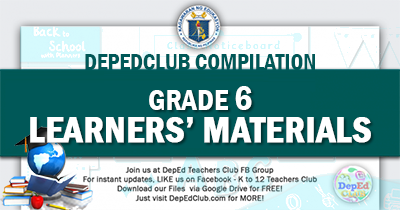 Grade 6 Learners Materials / Learning Materials – 1st Quarter Download Links FIXED!
ARALING PANLIPUNAN 6 Learners Materials / Learning Materials
Kinalalagyan Ng Pilipinas At Ang Malayang Kaisipan Sa Mundo
MATHEMATICS 6 Learners Materials / Learning Materials
Numbers and Number Sense
ESP 6 Learners Materials / Learning Materials
ENGLISH 6 Learners Materials / Learning Materials
Vocabulary Development
FILIPINO 6 Learners Materials / Learning Materials
Estratehiya sa Pag-aaral
SCIENCE 6 Learners Materials / Learning Materials
Matter
TLE 6 Learners Materials / Learning Materials
ICT and ENTREPRENEURSHIP
HOME ECONOMICS
IMPORTANT: HOW TO DOWLOAD FILES IN GOOGLE DRIVE
FOR MS OFFICE FILES:
1. Click on the file link in our website.
2. You will be redirected to the file location via Google Drive.
3. On the upper left side of your screen, Go to FILE menu. Click DOWNLOAD, then Select Microsoft Word for the editable file format.
FOR OTHER FILES:
1. On the upper right hand corner of your screen, look for this button to Download the file —>

If you encounter an Error while downloading the files, please Log-in to your Gmail account (Here – mail.google.com) , then try again to click the Download Link in Google Drive. Thank you.
Additional files to be uploaded soon.
We are always on the process of uploading new files.
For additional updates and unannounced uploads, please visit this section from time to time.
Like us on Facebook to get INSTANT UPDATES. CLICK HERE
You can also BOOKMARK this page in your web browser by clicking Ctrl+D in your keyboard for faster access in the future. Thank you fellow Teachers.
We at DepEd Teachers Club are always grateful to all our File Authors and File Contributors. Credit goes to all of them. Let us all give them thanks and show our support for all their works.
We are also thankful for all our File Editors, Sharers, Tech Volunteers and fellow Teachers for helping us and making this kind of service possible.
Thank you!
MORE DOWNLOADABLE FILES