In academic situations like lectures or meetings, lecturers or presenters typically stand in front of the audience and read from a paper, scribble on papers, or write calculations on a chalkboard. With the advent of modern technology and software, notably Microsoft PowerPoint, this has changed. In this article, you will find our compiled Grade 5 PowerPoint Presentations – 4th Quarter.
Although PowerPoint is widely used, many studies have highlighted its shortcomings, including its already prepared discourse construction that promotes the misuse of bulleted presentations, the constrained format and size of slides that support minimal content, and the continual danger of confusing viewers with excessive text or data.
However, PowerPoint presentations are increasingly common in academic settings, not just in the social sciences but also in the scientific fields. This is seen by the rise in the use of graphics, color, and even audio and video in presentations, which have supplanted the conventional means of disseminating research.
K–12 teachers have adopted PowerPoint as a multimedia tool for teaching new subjects, clarifying concepts, and perhaps even improving classrooms by including multimodal activities. This is in addition to academic institutions. Because PowerPoint enables them to create multimodal curriculum for students in grades K–12, teachers choose it over alternative multimedia tools.
Science has always been multimodal, as history has proved, although early scientific work frequently lacks performative and visual elements due to textual bias. The efficacy of scientific communication may be enhanced by modern technologies that make it simpler to combine several modes and transmit non-verbal elements from one medium to another.
Academic discourse has been significantly and frequently subtly impacted by technology, which has transformed old genres like the research paper and the lecture into multimedia forms that call for new preparation and presentation strategies as well as a new approach to genre analysis.
In conclusion, PowerPoint is now used often to convey information in both academic and non-academic contexts. Despite its shortcomings, its widespread usage has prompted a change towards a more multimodal approach to information presentation, which has the potential to enhance the efficacy of scientific communication.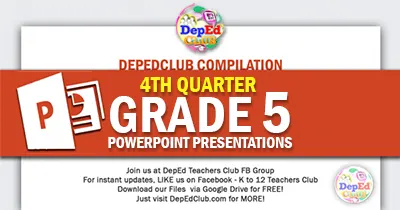 Grade 5 PowerPoint Presentations – 4th Quarter | Compilation
ARALING PANLIPUNAN 5 PowerPoint Presentations – Quarter 4
ENGLISH 5 PowerPoint Presentations – Quarter 4
EPP 5 PowerPoint Presentations – Quarter 4
ESP 5 PowerPoint Presentations – Quarter 4

FILIPINO 5 PowerPoint Presentations – Quarter 4

MATHEMATICS 5 PowerPoint Presentations – Quarter 4
SCIENCE 5 PowerPoint Presentations – Quarter 4
Coming SOON!:
4th Quarter – Periodical Tests
IMPORTANT GUIDE:
MORE DOWNLOADABLE FILES
Activities for Students | Classroom Observation Tools | Daily Lesson Log | Diagnostic Test | Exams | Inspirational Stories | Instructional Materials | Learners Material | Periodical Tests | Powerpoint Presentations | RPMS | Short Stories | Summative Tests | Weekly Daily Lesson Log | Weekly Home Learning Plan | Weekly Learning Plan | Workbooks
We are always on the process of uploading new files.
For additional updates and unannounced uploads, please visit this section from time to time.
Like us on Facebook to get INSTANT UPDATES. CLICK HERE
You can also BOOKMARK this page in your web browser by clicking Ctrl+D in your keyboard for faster access in the future. Thank you fellow Teachers.
We at DepEd Teachers Club are always grateful to all our File Authors and File Contributors. Credit goes to all of them. Let us all give them thanks and show our support for all their works.
We are also thankful for all our File Editors, Sharers, Tech Volunteers and fellow Teachers for helping us and making this kind of service possible.