In this article, you will find our compiled GRADE 3 Learners Materials (LM). We aim to complete all the GRADE 3 Learners Materials (LM) to make them available to our fellow teachers and help them complete their resources to make their efforts more directed into the actual teaching process.
You will find the download links for the Learner's / Learning Materials at the bottom of this article. If you have time, you may read the article below from the Department of Education.
–—- HOW IS INSTRUCTION DELIVERED UNDER THE IMPACT SYSTEM?
In the IMPACT learning system, learners are grouped into learning families. A learning family is composed of pupils from levels 1 to 6 which comprises of about 50 to 60 pupils. These learners are under one teacher or Instructional Supervisor. An Instructional Supervisor may handle as many as two learning families for as long as the maximum number of pupils does not exceed 120. In setting-up learning families, it is important that brothers and sisters belong to one family including friends and neighbors. This is because in the IMPACT system, family members will want to feel responsible for each other; and friends and neighbors will have a greater responsibility for their group mates.
The learning family setup of the IMPACT system has proven to be highly successful as it supports the three main modes of instructional delivery under the IMPACT system, namely:
Programmed Teaching, Peer-Group Learning, and Individual Study
PROGRAMMED TEACHING
Programmed teaching is a kind of instruction where the ―programmed teacher‖ or PT strictly follows pre-arranged lessons which do not only present what are to be taught but also how they are taught. This means that the PT follows a sequence of steps in presenting the lesson, hence, the term programmed teaching is applied to levels 1 to 3 pupils. The pre-arranged lessons are already prepared and presented in Programmed Teaching Modules. This mode of delivering instruction is used for pupils in levels 1, 2, and the first semester of level 3 pupils. The programmed teachers (PT) are the brighter pupils in levels 4, 5, and 6 who are willing to be trained as programmed teachers. Level 6 pupils teach level 1, level 5 pupils teach level 3, and level 4 pupils teach level 2. A PT is assigned only one-half (1/2) of the required session of the subject per day of programmed teaching. It may happen that a lesson will take more than half of the period, and so another PT will take over to continue the lesson. In some cases, a PT would be able to handle the whole period with authority from an IS.
A PT is introduced as a ―big brother or ―big sister‖ and usually belongs to the same learning family. An elder brother or sister of a learner in level 1 or 2 may be assigned as PT in their level. This sense of pride and familial belongingness may enhance a learner's (in level 1 or 2) positive attitude towards the lesson. Absences can easily be monitored and checked as the big brother or sister may already be able to report to the IS the reason why the younger sibling was absent. This would also be true for friends and neighbors.
The IS prepares all the necessary instructional materials needed by the PT before the programmed teaching schedule. He/She also has to train the PT on the correct way of following the different item programs (please see ANNEX 4 for the different item programs and their descriptions) as stated in the module. Before classes end for the day, the IS sees to it that the assigned PT for the next day's lesson is ready and has been trained. All the needed instructional materials should also be ready before the actual programmed teaching session. Assigned PTs are given their schedules for programmed teaching at least a week ahead of actual programmed teaching. This will give them time to practice, study the assigned lessons for programmed teaching, and also study ahead their learning modules. Usually, PTs are given copies of the peer-group learning modules they are working on for the week for the to study. The ISs are encouraged to train several PTs to give opportunity to other pupils to develop their confidence and leadership skills as well as make them available when there would be PTs that cannot program teach due to valid reasons.
——
We are always on the process of uploading GRADE 3 Learners Materials (LM). As requested, here are the file links. The remaining files will be uploaded soon. Please check this section from time to time.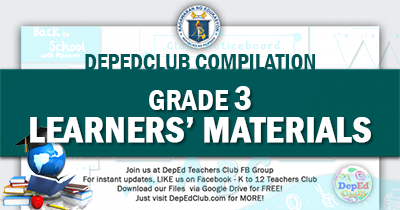 GRADE 3 Learners Materials (LM) – 1st Quarter | Download Links FIXED!
ARALING PANLIPUNAN 3 Learners Materials / Learning Materials
Q1 – Ang Mga Lalawigan sa Aking Rehiyon
ART 3 Learners Materials / Learning Materials
Q1 – Drawing
ENGLISH 3 Learners Materials / Learning Materials
Q1 – Writing and Composition
ESP 3 Learners Materials / Learning Materials
Q1 – Tungkulin Ko Sa Aking Sarili at Pamilya
FILIPINO 3 Learners Materials / Learning Materials
Q1 – Estratehiya sa Pag-aaral
HEALTH 3 Learners Materials / Learning Materials
Q1 – Nutrition
MATHEMATICS 3 Learners Materials / Learning Materials
Q1 – Numbers and Number Sense
MTB 3 Learners Materials / Learning Materials
Tagalog
MUSIC 3 Learners Materials / Learning Materials
Q1 – Rhythm
SCIENCE 3 Learners Materials / Learning Materials
Q1 – Matter
IMPORTANT: HOW TO DOWLOAD FILES IN GOOGLE DRIVE
FOR MS OFFICE FILES:
1. Click on the file link in our website.
2. You will be redirected to the file location via Google Drive.
3. On the upper left side of your screen, Go to FILE menu. Click DOWNLOAD, then Select Microsoft Word for the editable file format.
FOR OTHER FILES:
1. On the upper right hand corner of your screen, look for this button to Download the file —>

If you encounter an Error while downloading the files, please Log-in to your Gmail account (Here – mail.google.com) , then try again to click the Download Link in Google Drive. Thank you.
Additional files to be uploaded soon.
We are always on the process of uploading new files.
For additional updates and unannounced uploads, please visit this section from time to time.
Like us on Facebook to get INSTANT UPDATES. CLICK HERE
You can also BOOKMARK this page in your web browser by clicking Ctrl+D in your keyboard for faster access in the future. Thank you fellow Teachers.
We at DepEd Teachers Club are always grateful to all our File Authors and File Contributors. Credit goes to all of them. Let us all give them thanks and show our support for all their works.
We are also thankful for all our File Editors, Sharers, Tech Volunteers and fellow Teachers for helping us and making this kind of service possible.
Thank you!
MORE DOWNLOADABLE FILES