To help teachers with other means of presenting their lessons more effectively, more Grade 2 PowerPoint Presentations – 2nd Quarter are now available. Thanks to all our File Creators, Contributors and Files Editors for sharing these files. More files to be uploaded soon. Thank you!
Presentation styles for teachers (Part 2 of 3)
The challenging discipline of teaching necessitates a variety of presentational skills, including the followiing effective teaching techniques:
Utilizing notes. Occasionally without looking up to address the audience, some speakers recite their entire lectures. It's important to keep in mind that students are literate, and if all you are going to provide them is a reading of projected notes or a text, they would be better off completing it on their own time. Take a break from your notes and address points on the overheads or in your notes. If you must read anything, take a few breaks to look up. Remember that spoken and written languages differ from one another. Therefore, rather of writing a lengthy essay that would be more suited for distribution in an academic paper, prepare outlines or a framework to be delivered at a lecture or presentation. Understanding your audience's characteristics and the situation in which you are communicating is necessary for effective communication.
Emphasis. To make key points in your lessons clear to the students, emphasize them in your voice. The creation of more diversified and engaging presentations can benefit from changes in emphasis. Use verbal cues like now this is vital or this is a hard concept to grasp to indicate to students what is important.
Speed. Watch your fundamental speaking rate. If you talk too hurriedly, students will be unable to take notes or comprehend what you're saying. Keep an eye out for when they raise their heads from taking notes. If you speak too slowly or too hastily, they will lose interest immediately. Be mindful that many people speak too quickly when they are scared. If you notice that your delivery is getting faster, pause for a second, then resume speaking at a slower, more even pace. Adjust the tempo to the sentence's meaning.
Take a moment. Take a break to let the audience process what you just said as you go back and review your notes or get ready for the following point. Make sure to pause long enough to allow for note-taking because students also need time to jot thorough notes from your presentation. Another powerful tool for grabbing students' attention is silence. AVOID verbal pauses, such as "uhm," "you know," "like," etc. Overusing such words and noises will divert your viewers.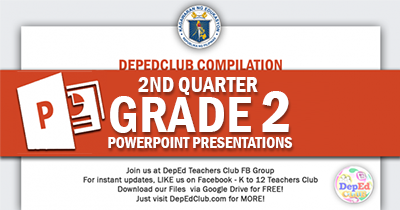 Grade 2 PowerPoint Presentations – 2nd Quarter
ARALING PANLIPUNAN 1 PowerPoint Presentations – 2nd Quarter
ENGLISH 1 PowerPoint Presentations – 2nd Quarter
ESP 1 PowerPoint Presentations – 2nd Quarter
FILIPINO 1 PowerPoint Presentations – 2nd Quarter
MATH 1 PowerPoint Presentations – 2nd Quarter
MTB 1 PowerPoint Presentations – 2nd Quarter
IMPORTANT GUIDE:
MORE DOWNLOADABLE FILES
We are always on the process of uploading new files.
For additional updates and unannounced uploads, please visit this section from time to time.
Like us on Facebook to get INSTANT UPDATES. CLICK HERE
You can also BOOKMARK this page in your web browser by clicking Ctrl+D in your keyboard for faster access in the future. Thank you fellow Teachers.
We at DepEd Teachers Club are always grateful to all our File Authors and File Contributors. Credit goes to all of them. Let us all give them thanks and show our support for all their works.
We are also thankful for all our File Editors, Sharers, Tech Volunteers and fellow Teachers for helping us and making this kind of service possible.