The Department of Budget and Management (DBM) has approved the creation of 75,242 teaching positions for kindergarten/ elementary, junior high school (JHS), and senior high school (SHS) for SY 2018-2019. This is in line with the request made by the Department of Education (DepEd) in order to address the inadequate number of teaching personnel in public schools nationwide.
The funding requirements to cover salaries and other forms of compensation for the new positions shall be charged against the FY 2018 Built-in Appropriations (New School Personnel Positions). Notably, only filled positions will be covered by the DBM's issuance of a Special Allotment Release Order (SARO).
DBM Regional Offices and the DBM Organization, Position Classification and Compensation Bureau (OPCCB) shall issue the corresponding Notice of Organization, Staffing, and Compensation Action (NOSCA) direct to the DepEd – Division Offices for Kinder, Elementary, and SHS and to the DepEd- Implementing Units for JHS positions based on  the deployment reports submitted by the DepEd.
The DepEd has been allocated a budget of P553.31 billion this year, higher than the P543.186 billion last year.
Bulk of the needed 75,242 new teachers are for kindergarten and elementary with 40,642 teaching personnel to be hired. Around 34,244 new teachers are needed for junior high schools and 356 for senior high schools.
The 75, 242 new teaching positions are summarized as follows:
New DepEd Teaching Positions for SY 2018 – 2019
| | | | | |
| --- | --- | --- | --- | --- |
| REGION | Kinder/ Elementary | Junior High School | Senior High School | TOTAL |
| | (Teacher I) | (Teacher I) | (Teacher II) | |
| ARMM | 1,832 | 626 | 2 | 2,460 |
| CAR | 459 | 348 | 4 | 811 |
| NCR | 2803 | 2,281 | 1 | 5,085 |
| Region  1 | 1373 | 1,595 | 58 | 3,026 |
| Region 2 | 1298 | 836 | 29 | 2,163 |
| Region 3 | 4617 | 3,369 | 33 | 8,019 |
| Region 4A | 6884 | 4,271 | 31 | 11,186 |
| Region 4B | 1681 | 1,621 | 21 | 3,323 |
| Region 5 | 2739 | 3,160 | 17 | 5,916 |
| Region 6 | 2427 | 2,570 | 92 | 5,089 |
| Region 7 | 3651 | 2,634 | 32 | 6,317 |
| Region 8 | 1780 | 2,334 | 10 | 4,124 |
| Region 9 | 1556 | 1,831 | 1 | 3,388 |
| Region 10 | 2079 | 1,675 | 13 | 3,767 |
| Region 11 | 2147 | 2,194 | 3 | 4,344 |
| Region 12 | 2156 | 1,666 | 4 | 3,826 |
| CARAGA | 1160 | 1,233 | 5 | 2,398 |
| TOTAL | 40,642 | 34244 | 356 | 75,242 |
| | | | | Source: DBM |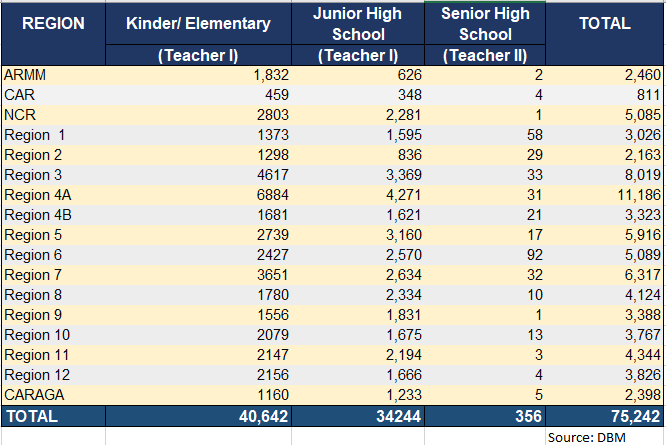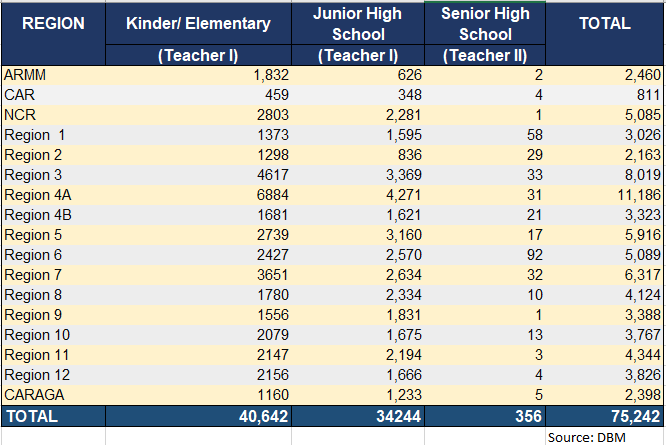 Source: