UPDATE:
CHANGES  in DepEd MEMO No.66 s.2018
(2018 Brigada Eskwela Implementing Guidelines)
Relative to DepEd Memorandum (DM) No. 66, s. 2018 entitled 2018 Brigada Eskwela Implementing Guidelines, the following changes have been made:

a. The National Kick-off Program on May 24, 2018 shall be moved to May 29, 2018 at the New Society National High school, Division of General Santos City, Region XII;
b. The regional offices may opt to conduct their regional kick-off programs starting May 21, 2018, after the election period;
c. The Regional Director shall approve the creation and terms of reference of the Regional Validation and Selection Committee for the Best Implementing Schools per recommendation of the Regional Partnerships Focal Person; and
d. The criteria for Creativity and Innovation (10% shall be evaluated based on the presence of value added projects or unusual projects benefiting the schools and the learners e.g. medical and dental services, provision of school supplies and uniform, awareness/literacy campaigns, special services, among other projects. The criteria shall also consider the quantity of innovations, number of beneficiaries, and impact to access and quality.

All Regional Directors, EssD Chiefs and Regional Partnerships Focal Persons are invited to attend the national program
Travel and incidental expenses shall be charged against local funds subject to the usual accounting and auditing rules and regulations
All other provisions stated in DM 66 s. 2018 shall remain in effect.
Source:
 DepEd Memo No.66 s.2018
2018 Brigada Eskwela Implementing Guidelines
The Department of Education (DepEd) will conduct the 2018 Brigada Eskwela from May 28 to June 2, 2018 with the theme Pagkakaisa Para sa Handa Ligtas at Matatag na Paaralan Tungo sa Magandang Kinabukasan.

The Brigada Eskwela is the National Schools Maintenance Week, that aims to brings together all education stakeholders to participate and contribute their time, effort, and resources to prepare public school facilities for the opening of the school year in June.
The national kick-off program shall be held on May 24, 2018 at a public school in General Santos City, Region XII as the host. Regional offices (ROS) and schools division offices (SD05) shall hold a kick—off ceremony to launch the Brigada Eskwela in their respective areas on May 28, 2018.
All regional directors (RDs) and schools division superintendents (SDSs) shall mobilize their partnerships focal persons who are the Adopt—a—School Program/Brigada Eskwela coordinators to ensure the effective implementation of Brigada Eskwela in all public elementary and secondary schools and to ensure involvements of the community and local stakeholders.
School heads (SHS) shall take the lead role in planning the activities geared on making schools ecologically conscious, resilient, clean, and conducive to learning. Important reminders to SHs in the conduct of this activity are indicated in Enclosure N0. 1.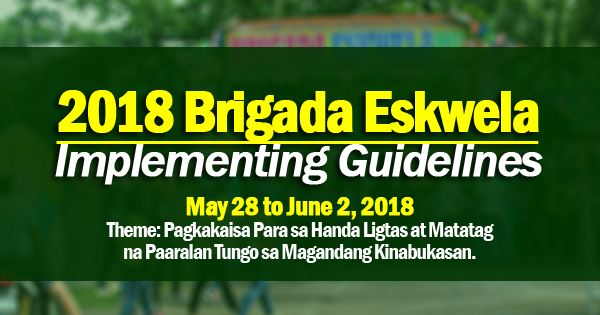 Individuals or groups from the national government agencies (NGAS), local government units (LGUS), private sector, international organizations and other parties, who or which are interested to help the schools and volunteers, may coordinate with the External Partnerships Service (EPS) of the DepEd Central Office, Education Support Services Division in the ROS, Social Mobilization and Networking Section under the Schools Governance and Operations Division in the SDOs and/ or the school principal of the beneficiary school, for guidance.
All DepEd employees are encouraged to join the Brigada Eskwela activities by 

offering their skills, sharing their time or providing their assistance in—kind and support to public schools near their residence. Interested employees are given two days to do volunteer work on official time, provided that such work is approved by their heads of offices.
Teaching personnel are entitled to earn vacation service credits arising from their active involvement in the Brigada Eskwela activity. A complete six—day participation in the maintenance effort shall give teachers a three-day service credit entitlement. For further details on granting service credits to teachers, please refer to DepEd Order No. 53, s. 2003 entitled Updated Guidelines on Grant of Vacation Service Credits to Teachers, particularly Item No.1.d Sub—item k.
Central office key officials are enjoined to participate in activities related to the implementation of Brigada Eskwela.
The schedule of activities for the 2018 Brigada Eskwela implementation is as follows: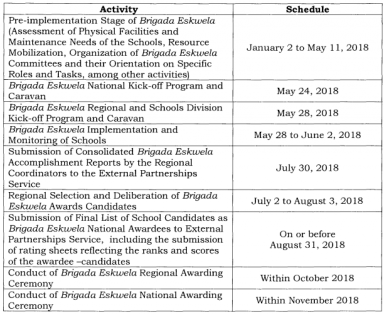 To implement the selection process in the Search for Brigada Eskwela Best Implementing Schools effectively, DepEd hereby issues a set of criteria, and details of which are provided in Enclosure N0. 2.
The school principal and school coordinator of the Brigada Eskwela Best Implementing Schools shall receive a certificate of recognition, Which they can present when they apply for promotion, based on the existing hiring and promotion guidelines.
The SHS shall make the Brigada Eskwela program not just a tool for improving school facilities but also as a catalyst for achieving a higher learning outcome for the school. Brigada Eskwela Plus will be the mechanism to elevate the level of awareness and participation of education stakeholders in improving the quality of education. The implementation of Brigada Eskwela Plus will focus on the following three key activities:
School maintenance activities throughout the school year,

Community-led effort to improve student participation and reduce dropouts or to enroll the learners in the Alternative Learning System (ALS), and

Community—led effort to improve student performance.
All Brigada Eskwela Hall of Fame Awardees shall implement innovative and community—led efforts to improve student participation and performance. The best practices on the implementation of a year—long Brigada Eskwela Plus shall be used as inputs in crafting the operations manual of the Brigada Eskwela Plus.
Among the Hall of Fame Awardees, each region will select one Brigada Eskwela Plus Most Sustained School Award. The details of which shall be contained in a separate issuance.
For more information, contact Mr. Rally V. Soriano, External Partnerships Service, Ground Floor, Teodora Alonzo Bldg, Department of Education (DepEd) Central Office, DepEd Complex, Meralco Avenue, Pasig City at telephone nos.: (02) 638—8637, (02) 638—8639, (02) 635—9996, or email at rolly.soriano@deped.gov.ph.
Immediate dissemination of this Memorandum is desired.
Read the full Department of Education Memorandum No.66 s.2018
2018 Brigada Eskwela Implementing Guidelines