DepEd Advisory No. 067, s. 2018
April 13, 2018
In compliance with DepEd Order (DO) No. 8, s. 2013, this advisory is issued not for endorsement, per DO 28, s. 2001, but only for the information of DepEd officials, personnel/staff as well as the concerned public.
(Visit www.deped.gov.ph)
11th NATIONAL EDUCATORS CONFERENCE
The Association of Science Educators in the Philippines (ASEP) will conduct its 11th National Educators Conference with the theme Science and Technology Advancement Through Enhancing Capabilities of Educators Focus on Inventions, Research and School Leadership from April 27 to 29, 2018 at the Skyrise Hotel, Baguio City.
The conference aims to:
enhance the educators' knowledge on the teaching strategies and test construction of the different subject areas of the K to 12
Basic Education Program;
make them understand the significance of introducing new inventions, producing young inventors, and witnessing the
inventions of local inventors;
 enhance their capability in leadership and management of instruction; and
enhance their capability in research with focus on Science Intervention Materials (SIM) and Qualitative and Quantitative research.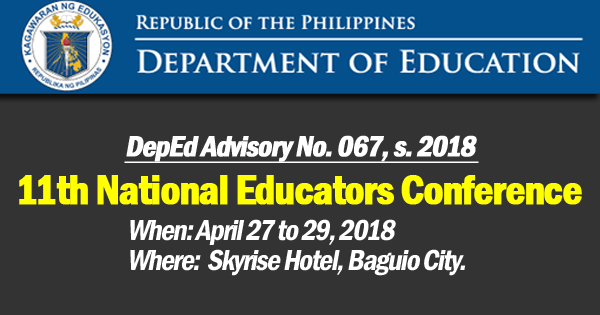 The target participants are chiefs, education program supervisors I and II, schools district supervisors, school principals, school heads, teachers in Science, English, Mathematics, Filipino, Social Studies, Values, Music, Arts, Physical Education and Health (MAPEH), Technology and Livelihood Education (TLE), Research Guidance coordinators, advisers, master teachers and key teachers from both public and private elementary and secondary schools.
For more information, contact:
Dr. Fruit R. Godoy-Baisa
President, Association of Science Educators in the Philippines (ASEP)
Summerfield Subd., Brgy. Osorio
Trece Martires City, Cavite (Main Office)
Mobile Phone No.: 0939-380-7456
Dr. Aurora A. Franco
Vice President, ASEP
Mobile Phone No.: 0919-656-4666
Source: DepEd Advisory  No. 067, s. 2018