Senator Loren Legarda today said that the education sector remains a top priority of the government in the 2018 General Appropriations Bill (GAB), which had been ratified by both houses of Congress and is expected to be signed by the President on December 19, 2017.
Legarda, Chair of the Senate Committee on Finance and staunch advocate of education and children's rights, said that the proposed 2018 budget of the Department of Education (DepEd) increased to Php553.313 Billion from the current year's Php543.186 Billion, while the budget for State Universities and Colleges (SUCs) and the Commission on Higher Education (CHED) were also significantly augmented to Php62.115 Billion and Php49.426 Billion, respectively.
"Education is the best investment for our nation and our people. It is incumbent upon us to prioritize education in our budget in order to cultivate leaders and nation-builders of tomorrow," she said.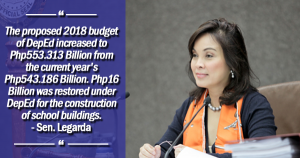 "For next year, we needed to ensure that our education budget is one that would truly address the needs of our students and our teachers. Access to education is still a major concern, and I am thankful that we can now provide free education up to the tertiary level. With this, we hope to further bring down the number of out-of-school youth as well as improve the quality of all our learning institutions," Legarda added.
Legarda said that the most noteworthy increase is the Php40 Billion funding for free college education in all SUCs, local universities and colleges (LUCs), and state-run technical-vocational institutions, for the implementation of the Universal Access to Quality Tertiary Education Act.
An additional Php10 Million for capital outlay of each SUC was adopted in order to purchase equipment and improve facilities within their campuses. Moreover, Php327 Million was allocated to install Wi-Fi in SUCs and public places to aid students in their school requirements.
Another Php250 Million funding under CHED was also allocated for free tuition for medical students enrolled in SUCs.
Legarda said that Php16 Billion was restored under DepEd for the construction of school buildings. Funds were also provided for the insurance of these school buildings under the National Disaster Risk Reduction and Management (NDRRM) Fund.
She added that the cash allowance of teachers for their purchase of classroom supplies such as chalk, markers, paper, and erasers was increased from P2,500 to P3,500 for each teaching personnel.
"It is only proper that we place heavy importance on our education system. Boosting our funding for education is an acknowledgment of the invaluable service of our teachers to our society and its contribution in shaping the lives of our students. As we enrich our teachers and students, the more our country benefits. We need to transform our academic institutions further as bastions of knowledge and hope for our future generations," Legarda concluded.
Source/Credits:
Press Release
December 15, 2017