DepEd Reminds Schools to Maximize Utilization of MOOE.
 PASIG CITY, December 1, 2017 – Department of Education (DepEd) Secretary Leonor Magtolis Briones encouraged all teachers to report incidences of when and why they had to shell out personal money for expenses that should have been covered by the Maintenance and Other Operating Expenses (MOOE).
"You are not compelled na gumastos, to buy things na nasa MOOE na. I suggest you report na gumastos kayo," the Education chief stated.
As the Department eyes further increase in MOOE next year to raise the capacity of schools to provide the necessary supplies, support learning programs, and maintain a safe and healthy environment for learners and teachers, the Secretary issued the reminder in light of the concern on out-of-pocket spending of public school teachers.
The fund has long been in place to prevent out-of-pocket expenses of teachers. In 2018, the MOOE may see an increase of up to P347.723 million, which will also aim to cover the teachers' annual physical exam (APE).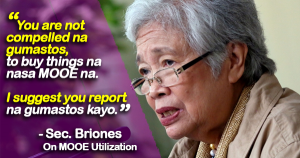 Undersecretary for Finance-Budget and Performance Monitoring Annalyn Sevilla backed the Secretary's call: "We have learned that there are some teachers who are spending for the things that their schools need and charge it to their salary, hence, it affects their take home pay. If you know any teachers who are doing this, please tell them to stop because we have funds for school needs."
As highlighted in DepEd Order No. 13, s. 2016 (DO 13), the MOOE annually allocated to public elementary and secondary schools must be utilized to:
Procure school supplies and other consumables for teachers and students deemed necessary in the conduct of classes;
Pay for reproduction of teacher-made activity sheets or exercises downloaded from the Learning Resource Management and Development System (LDRMS);
Fund minor repairs of facilities, building and grounds maintenance, and upkeep of school;
Fund rental and minor repairs of tools and equipment deemed necessary for the conduct of teaching and learning activities;
Pay for wages of full-time janitorial, transportation/mobility and security services;
Pay for school utilities (electricity and water) and communication (telephone and Internet connectivity) expenses;
Support expenses for school-based training and activities selected or designed to improve learning outcomes, such as but not limited to, Learning Action Cells (LAC) and Continuous Improvement (CI) sessions;
Support special curricular programs (e.g. advocacy, assessment, capacity building, learning environment, learner development, and research);
Fund activities as identified in the approved School Improvement Plan (SIP) for implementation in the current year and as specifically determined in the Annual Implementation Plan (AIP) of the school;
Finance expenses pertaining to graduation rites, moving up or closing ceremonies and recognition activities;
Procure small capital expenditure items worth P15,000 and below, as provided in the new Government Accounting Manual issued by the Commission on Audit and subject to separate guidelines to be issued by DepEd.
For instance, Bagong Silangan High School in Quezon City, with a population of 5,211 Grade 7 to 12 students, was allocated with P4.2 million MOOE in 2015. In 2016, the student population increased to 5,370 and the school was allotted with P5.1 million. In 2017, the number of Junior High School (JHS) learners had a slight decrease at 5,327 and the school was apportioned with P5.2 million MOOE.
With the adoption of a new formula in 2013, the number of learners is no longer the sole consideration for MOOE. New factors include the number of teachers and classrooms managed by the school; the number of graduating or completing learners; a fixed amount corresponding to the basic needs of a school.
A total of P1.2 billion MOOE was allotted to public elementary and secondary schools (student population of 671,865 excluding SHS) in NCR for 2015; P1.5 billion for 674,187 students (excluding SHS) for 2016; and P1.6 billion for 710,946 learners (excluding SHS) for 2017. Meanwhile, a total of P1.6 billion MOOE was allocated to public elementary and secondary schools (student population of 796,294 excluding SHS) in Region 4-A for 2015; P2.0 billion for 820,494 students (excluding SHS) for 2016; and P2.1 billion for 872,213 learners (excluding SHS) for 2017.
To ensure accountability in the use of MOOE, all schools are mandated by Republic Act 9485 (Anti-Red Tape Act of 2007) to post a Transparency Board on MOOE. Furthermore, DO 13 mandates all principals, schools heads, and teachers-in-charge to:
Declare all sources of funding (must include amount received by school, quantity, description, or if such was received in kind) of the school, which include school MOOE allocation, private donations, funding support from LGUs (i.e. Special Education Fund), and other government agencies; funding support from local stakeholders such as School Governing Council (SGC), Parent-Teacher-Community Associations (PTCA), civil society organizations (CSOs), alumni associations, revenue from school canteen operations, and other income generated from the disposal of assets, rent, or collection of fees (as cited in Special Provisions 1 and 2 under the DepEd budget in the 2016 GAA);
Outline the intended utilization of the abovementioned funds, including the timing of such utilization, consistent with its SIP, in its report on sources and uses of school funds;
Ensure that all procurement using school funds conform to the provisions of R.A. 9184 (Government Procurement Reform Act)
Post information on the sources, intended use and actual utilization of school funds in the Transparency Board that must be publicly accessible and updated every three months
Using the School Report Card, formally communicate/present the sources and uses of school funds to the following stakeholders: faculty and staff of the school, PTCA, SGC, and active partners among local stakeholders (i.e. barangay officials, CSOs, alumni association)
Source:
Department of Education Press Release
December 1, 2017
Was this helpful? Like and Share for others too.