In this article, you will find our compiled GRADE 4 Learners Materials (LM). We aim to complete all the GRADE 4 Learners Materials (LM) to make them available to our fellow teachers and help them complete their resources to make their efforts more directed into the actual teaching process.
You will find the download links for the Learner's / Learning Materials at the bottom of this article. If you have time, you may read the article below from the Department of Education.
—— PEER-GROUP LEARNING
Levels 4, 5, and 6 use the peer-group learning mode for instructional delivery. These pupils are grouped into peerlearning groups of 5 to 6 pupils per group, heterogeneous in ability but are studying the same peer-group learning modules. Each member of the group takes turn in acting as group leader and usually the best pupil in the group becomes the first peer-group leader. As other members in the group become acquainted and familiar with peer-group learning and becoming a group leader, they will also be given the opportunity to act as peer-group leaders. Thus, leadership in a group is rotated to allow all members in the group experience becoming peer-group leaders.
Peer-group members also belong to the same learning family. Thus, being responsible for other members in the group becomes second-nature to these learners as they would want to become responsible and help their friends and neighbors in learning their lessons.
In setting up peer-groups, heterogeneity is a necessary criterion so that children of different ability levels can learn from each other. The difficulty with homogenous grouping is that the slower students would fall farther and farther behind, lose their self-respect, and possibly even drop out. Each learning family has at least three peer-groups: first, level 6; second, level 5; and the third, level
4. Peer-group learning is used in all subjects with peergroup learning modules. In addition, slower learners are given an additional period to complete the activities on the core module, while the fast learners would spend this period on the advanced modules, if these are available.
Contracting is an integral part of peer-group learning. Responsibility is developed in a group through a system of contracting. The group promises in writing to complete a number of modules for the week. The IS goes over the contract proposal of each peer-group to determine if the targets they have set for themselves during the week are within the group's capabilities and abilities. Refer to ANNEX 5 for a sample learning contract by a peer-group.
The form used is IMPACT Form 1. Group completion of contracts is recorded in the contract progress chart, which is conspicuously hung in the Learning Resource Center. In addition to this display of progress, the members of the peer-group are given positive reinforcements by the IS Aide and the IS.
Contracting is the means by which the IS can set the pace of learning of the students as well as challenge them to
do their best, yet at the same time, not overload any pupil. This judgment of the IS requires an intimate knowledge of the individual capabilities of all students under his/her care.
—–
We are always on the process of uploading GRADE 4 Learners Materials (LM). As requested, here are the file links. The remaining files will be uploaded soon. Please check this section from time to time.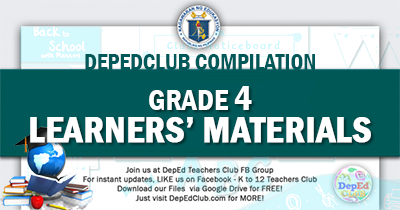 Grade 4 Learners Materials / Learning Materials – 1st Quarter – Download Links FIXED!
ARALING PANLIPUNAN 4 Learners Materials / Learning Materials
Q1 – Ang Aking Bansa
ART 4 Learners Materials / Learning Materials
Q1 – Drawing
ENGLISH 4 Learners Materials / Learning Materials
Vocabulary Development
FILIPINO 4 Learners Materials / Learning Materials
Pagpapahalaga sa Wika, at Panitikan
HEALTH 4 Learners Materials / Learning Materials
MUSIC 4 Learners Materials / Learning Materials
Q1 – Rhythm
SCIENCE 4 Learners Materials / Learning Materials
Q1 – Matter
IMPORTANT: HOW TO DOWLOAD FILES IN GOOGLE DRIVE
FOR MS OFFICE FILES:
1. Click on the file link in our website.
2. You will be redirected to the file location via Google Drive.
3. On the upper left side of your screen, Go to FILE menu. Click DOWNLOAD, then Select Microsoft Word for the editable file format.
FOR OTHER FILES:
1. On the upper right hand corner of your screen, look for this button to Download the file —>

If you encounter an Error while downloading the files, please Log-in to your Gmail account (Here – mail.google.com) , then try again to click the Download Link in Google Drive. Thank you.
Additional files to be uploaded soon.
We are always on the process of uploading new files.
For additional updates and unannounced uploads, please visit this section from time to time.
Like us on Facebook to get INSTANT UPDATES. CLICK HERE
You can also BOOKMARK this page in your web browser by clicking Ctrl+D in your keyboard for faster access in the future. Thank you fellow Teachers.
We at DepEd Teachers Club are always grateful to all our File Authors and File Contributors. Credit goes to all of them. Let us all give them thanks and show our support for all their works.
We are also thankful for all our File Editors, Sharers, Tech Volunteers and fellow Teachers for helping us and making this kind of service possible.
Thank you!
MORE DOWNLOADABLE FILES