To help teachers in generating professional judgment and assessing student learning achievement, our collection of GRADE 2 – 3rd Periodical Tests with TOS SY 2022 – 2023 Compilation + MELC-Based Periodical Tests is available here. We want to finish uploading all of the K-12 Periodical Tests for All Subjects so that we may make them available to all teachers in need of them.
Upcoming uploads include MORE student assessment files. The files for the GRADE 2 Periodical Tests with TOS + MELC-Based Periodical Tests are located at the end of this article.
Assessment
We select the type of evaluation depending on the resources at our disposal and employ the most common and efficient method. Summative assessment is the use of assessment data to generate professional judgment and assess student learning achievement. To put it another way, summative assessment refers to the use of assessment data to evaluate and compile learning achievement.
Paper and pencil tests are one of the most efficient ways to assess learning and instruction in a short amount of time. However, it is indisputable that summative assessment makes it difficult to gauge students' proficiency. For instance, using English, particularly speaking abilities, in a somewhat authentic communicative setting can be challenging. There are also flaws in summative evaluation that make it impossible for teachers to fully comprehend the unique characteristics of each student. As a result, summative assessment cannot accurately assess students' English proficiency.
More emphasis is placed on each student's performance during formative assessment. It is significant in determining if each student is making progress and achieving the necessary educational standards. It is advantageous for teachers to reflect, diagnose, and identify individual variances in pupils' performance. As a result, formative and summative assessment cannot entirely be separated. Effective assessment can, up to a point, encourage teachers to employ various methods of assessment in order to gain a thorough grasp of students' abilities. In order to direct instruction and obtain a more thorough and accurate assessment of student learning, we should integrate summative and formative assessment. We should also encourage students to use their full range of potential.
No assessment is by definition formative or summative, which is a crucial point to remember. Depending on how the assessment data is used, a certain strategy will be used. It is crucial for instructors to understand and be aware of the proper and effective ways in which various assessment methodologies can be applied in order to enhance student development. Assessment done during the learning process, or formative assessment, will have a significant impact on student learning and development.
When it comes to grades and report cards, teachers must occasionally summarize students' academic progress, but not all assessment data must be used for that purpose.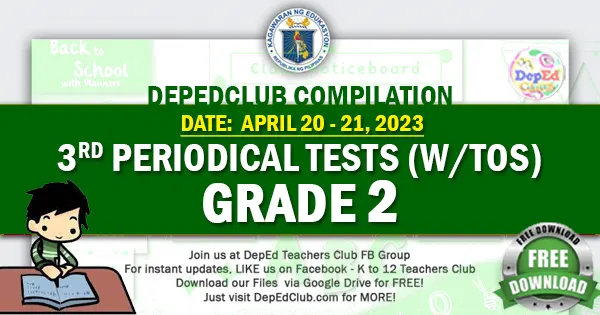 GRADE 2 – 3rd Periodical Tests with TOS
SY 2022 – 2023 Compilation
More Files uploaded regularly. Bookmark this page for instant access. Just Press CTRL + D in your keyboard to add this page to your bookmarks.
Also Available!
IMPORTANT GUIDE:
MORE DOWNLOADABLE FILES
We are always on the process of uploading new files.
For additional updates and unannounced uploads, please visit this section from time to time.
Like us on Facebook to get INSTANT UPDATES. CLICK HERE
You can also BOOKMARK this page in your web browser by clicking Ctrl+D in your keyboard for faster access in the future. Thank you fellow Teachers.
We at DepEd Teachers Club are always grateful to all our File Authors and File Contributors. Credit goes to all of them. Let us all give them thanks and show our support for all