"The measure of a man is not how much he suffers in the test, but how he comes out at the end."
― Neal Shusterman, UnWholly
In this article, you will find our compiled 4th Periodical Tests Compilation All Subjects | SY 2022-2023. We aim to complete all the K-12 Periodical Tests All Subjects to make them available to our fellow teachers and help them complete their resources to make their efforts more directed into the actual teaching process.
You will find the 4th Periodical Tests Compilation at the bottom of this article. If you have time, please read the article below for some background about the K-12 curriculum.
These 4TH PERIODICAL TESTS were created, edited and formatted by our DepEd Teachers Club Contributors, Member Volunteers and File Editors.
Just one special request fellow Teachers. In case you haven't LIKED our FB Page yet, before downloading, please do LIKE our FB Page – K to 12 Teachers Club (Click Here) as support and thanks to our Contributors. Thank you.
4th Quarter Examination Schedule |
4th Periodical Tests Schedule
4th Quarter Examination (Final Examinations for Grades 6 and 12)
JUNE 22 – 23 (Thursday – Friday)
4th Quarter Examination (Final Examinations for Grades 1-5 & 7-11)
JUNE 29 – 30 (Thursday – Friday)
Fundamental Principles of Classroom Assessment

The Content Principle.

Any classroom assessment should first and foremost be anchored in applicable subject content. Assessment should do much more than test distinct technical skills, as do many of today's topic assessment structures. The objective of assessment should be to measure students' understanding of the meaning, process, and uses of subject area knowledge. The new vision requires curriculum and matching assessment that is bigger and more cohesive than traditional approaches. Assessment should emphasize problem solving, thinking, and reasoning. Students should be encouraged to ask questions and formulate solutions of their own, not simply to respond to questions posed by their teachers.

The Equity Principle.

Assessment should be used to establish what students have learned and what they still need to learn in order to use knowledge well. Planning assessments to enhance equity requires conscientious rethinking not only of the entire assessment process, but also of how different individuals and groups are affected by assessment design and procedures. The challenge posed by the equity principle is to devise tasks with sufficient flexibility to give students a sense of accomplishment, to challenge the upper reaches of every student's understanding, and to provide a glimpse into each student's thinking. Assessments can contribute to students' opportunities to learn only if they are based on standards that reflect high expectations for all students.

The Learning Principle.

To be an effective part of the educational process, assessment should be an integral part of learning and teaching, rather than merely the culmination of the process. Time spent on assessment will then contribute to the goal of improving the learning of all students. If assessment is to support learning, then assessment tasks must provide genuine opportunities for all students to learn significant content.

Reminders on Classroom Assessment

Classroom Assessment Is Not Exclusively:

A process in which general reporting is done on an individual or case-by-case basis;
A source of information for teacher evaluation, promotion or tenure;
An irregular, unplanned process;
A singular process for gathering data for the purpose of making decisions about the curriculum;
A process or procedure limited to, or by regular program reviews;
Used to fulfill external regulations or accountability requirements.

Classroom assessment is aimed at helping students perform well in relation to the learning standards. Learning standards comprise content standards, performance standards and learning competencies that are outlined in the curriculum.

Content Standards identify and set the essential knowledge and understanding that should be learned. They cover a specified scope of sequential topics within each learning strand, domain, theme, or component. Content standards answer the question, "What should the learners know?"
Performance Standards describe the abilities and skills that learners are expected to demonstrate in relation to the content standards and integration of 21st century skills. The integration of knowledge, understanding, and skills is expressed through creation, innovation and adding value to products/ performance during independent work or in collaboration with others. Performance standards answer the following questions:

"What can learners do with what they know?"
"How well must learners do their work?"
"How well do learners use their learning or understanding in different situations?"
"How do learners apply their learning or understanding in real-life contexts"?
"What tools and measures should learners use to demonstrate what they know?"

Learning Competencies refer to the knowledge, understanding, skills, and attitudes that students need to
demonstrate in every lesson and/or learning
activity.
Concept Development. The learning standards in the curriculum reflect progressions of concept development The Cognitive Process Dimensions adapted from Anderson & Krathwohl (2001) may be a good way to operationalize these progressions. It provides a scheme for classifying educational goals, objectives, and standards. It also defines a broad range of cognitive processes from basic to complex, as follows:

Remembering – The learner can recall information and retrieve relevant knowledge from long-term memory: identify, retrieve, recognize, duplicate, list, memorize, repeat, reproduce
Understanding – The learner can construct meaning from oral, written, and graphic messages: interpret, exemplify, classify, summarize, infer, compare, explain, paraphrase, discuss
Applying – The learner can use information to undertake a procedure in familiar situations or in a new way: execute, implement, demonstrate, dramatize, interpret, solve, use, illustrate, convert, discover
Analyzing – The learner can distinguish between parts and determine how they relate to one another, and to the overall structure and purpose: differentiate, distinguish, compare, contrast, organize, outline, attribute, deconstruct
Evaluating – The learner can make judgments and justify decisions: coordinate, measure, detect, defend, judge, argue, debate, critique, appraise, evaluate
Creating – The learner can put elements together to form a functional hole, create a new product or point of view: generate, hypothesize, plan, design, develop, produce, construct, formulate, assemble, design, devise

To continue reading or to download the POLICY GUIDELINES ON CLASSROOM ASSESSMENT FOR THE K TO 12 BASIC EDUCATION PROGRAM (BEP) just click on this link.

SOURCE: Department of Education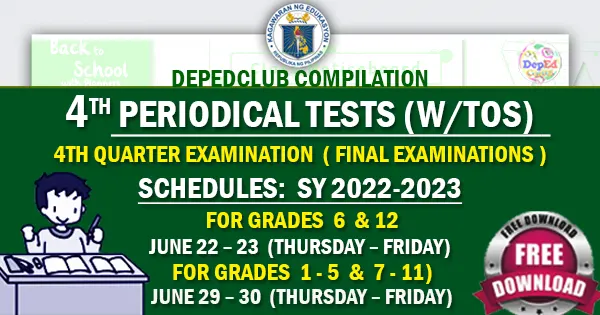 4th Periodical Tests Compilation All Subjects | SY 2022 – 2023
---
Coming Soon!
Just refresh this page for updates!
GRADE 7 4th Periodical Tests
GRADE 8 4th Periodical Tests
GRADE 9 4th Periodical Tests
GRADE 10 4th Periodical Tests
---
SENIOR HIGH SCHOOL 4th Periodical Tests
P.S.