Qualified government employees may expect to receive another cash incentive not exceeding PhP 25,000, through the Collective Negotiation Agreement or CNA. The annual CNA Incentive is a one-time benefit, and shall be granted not earlier than December 15, 2018.
The CNA incentive may be granted to both management and rank-and-file employees of agencies with approved and successfully implemented CNAs in recognition of their efforts in accomplishing performance targets at lesser cost and in attaining more efficient and viable operations through cost-cutting measures and systems improvement.
According to Budget Circular No. 2018-5, the following civilian personnel occupying regular, contractual, or casual positions rendering services on full-time or part-time basis in national government agencies (NGAs), including SUCs, G000s, LWDs, and LGUs, whether or not covered by Republic Act (RA) No. 6758, S. 1989, shall be entitled to the CNA incentive:
Rank-and-file employees who are members of an employees' organization accredited by the Civil Service Commission (CSC) as the sole and exclusive negotiating agent (hereinafter referred to as negotiating agent") in accordance with the rules and regulations issued by the Public Sector Labor Management Council (PSLMC);
Rank-and-file employees who are non-members of the CSC-accredited sole and exclusive negotiating agent but want to enjoy or accept benefits under the CNA, subject to payment of agency fee to the negotiating agent in accordance with PSLMC Resolution No. i, s. 1993; and
Those who perform managerial functions.
The rate of CNA Incentive shall not be pre-determined since it is subject to compliance with conditions outlined in Budget Circular No. 2018-5, as well as the availability of the allowable allotments. But in all cases, the CNA Incentive shall not exceed PhP25,000 per qualified employee.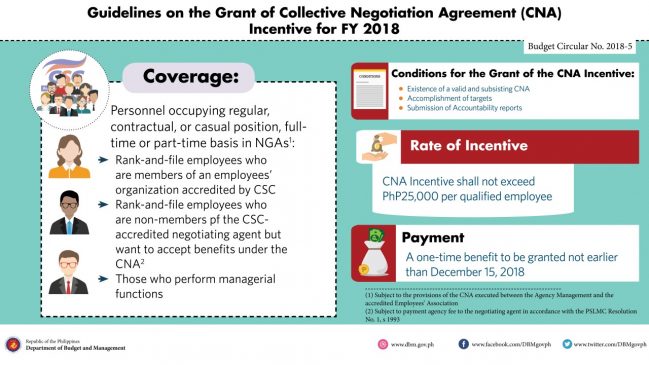 As reference on eligibility, you may read:
Source:
Published: November 21, 2018