To help teachers identify and fix any issues with their lesson plans and teaching strategies, our collection of GRADE 6 – 3rd Periodical Tests with TOS SY 2022 – 2023 Compilation + MELC-Based Periodical Tests is available here. We want to finish uploading all of the K-12 Periodical Tests for All Subjects so that we may make them available to all teachers in need of them.
Upcoming uploads include MORE student assessment files. The files for the GRADE 6 Periodical Tests with TOS + MELC-Based Periodical Tests are located at the end of this article.
Assessment
Following a teaching time, assessment is used to gauge both student learning and teachers' effectiveness. It has a precise evaluation standard. In order to categorize, identify, and evaluate progress after a teaching program or the conclusion of the term, assessment involves evaluating the efficacy of the course, the validity of the education program, and education research. To obtain a grade, the teacher will assess the pupils' knowledge of the course material. It enables the teacher to assess or summarize what the students have learnt.
The government's curriculum' requirements are followed when conducting assessments. It is a curriculum standard test, which is a widely used metric to assess pupils' level of knowledge. These tests are recurring exams that are created based on the outline of the material to be taught and tested. After a learning time, it assesses and measures what pupils have learned in the classroom. For instance, a multiple-choice test is a common assessment. A multiple-choice test is official and impartial. It might serve as a clear evaluation of particular skills.
If it's not a routine element of the administration, teachers shouldn't offer assistance throughout the test or repeat the questions. On the other hand, it makes the greatest sense for teaching and learning reasons if assessments take place frequently when specific skills and topics are being mastered.
Similarly, even if this means employing content that is either above or significantly below a child's nominal grade level, the test's difficulty level should be tightly focused on the student's current level of functioning.
Teachers can decide whether to stick with the current approach or try something new by comparing the grades of the current class of pupils to those from the past. With the aid of this assessment, teachers can promptly enhance their lesson plans and make the necessary teaching adjustments. Teachers can use the test results to inform their next set of lesson plans because assessments provide very precise quantitative data for analyzing teaching.
Teachers can use the information provided by summative assessments to quickly identify and fix any issues with their lesson plans and teaching strategies. Students that use it can identify their study-related issues and modify their learning goals and techniques.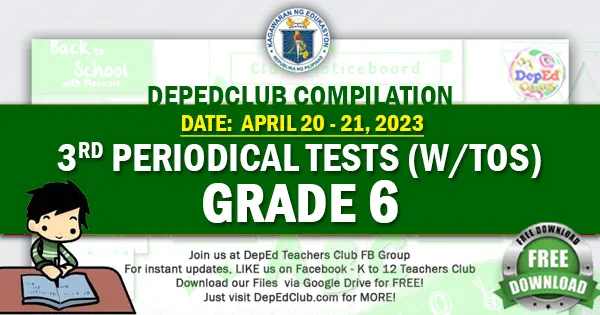 GRADE 6 – 3rd Periodical Tests with TOS
SY 2022 – 2023 Compilation
More Files uploaded regularly. Bookmark this page for instant access. Just Press CTRL + D in your keyboard to add this page to your bookmarks.
Also Available!
IMPORTANT GUIDE:
MORE DOWNLOADABLE FILES
We are always on the process of uploading new files.
For additional updates and unannounced uploads, please visit this section from time to time.
Like us on Facebook to get INSTANT UPDATES. CLICK HERE
You can also BOOKMARK this page in your web browser by clicking Ctrl+D in your keyboard for faster access in the future. Thank you fellow Teachers.
We at DepEd Teachers Club are always grateful to all our File Authors and File Contributors. Credit goes to all of them. Let us all give them thanks and show our support for all.