To help teachers assess how well students understand the learning objectives to be able to design instructional changes and interventions to be made, our collection of GRADE 5 – 3rd Periodical Tests with TOS SY 2022 – 2023 Compilation + MELC-Based Periodical Tests is available here. We want to finish uploading all of the K-12 Periodical Tests for All Subjects so that we may make them available to all teachers in need of them.
Upcoming uploads include MORE student assessment files. The files for the GRADE 5 Periodical Tests with TOS + MELC-Based Periodical Tests are located at the end of this article.
Assessment
At the end of a school year, term, or another predetermined interval, evaluations are often used to assess the efficacy of educational programs and services. The purpose of assessments is to determine a student's level of proficiency following the completion of a teaching period.
It's crucial that teachers are aware of the importance of evaluation if they want to encourage pupils to adopt a growth mindset and get better via practice. Effective assessment should be utilized to enhance student learning and convey that learning.
Even though assessment data can be used to improve future teaching performance, it is frequently not made available in time to allow for opportunities to revise or modify instructional practices while teaching and learning are still taking place.
Basic education assessments can also be used as methods to assess the success of initiatives, educational objectives, curriculum alignment, and student placement in particular initiatives. Consequently, it is administered on a regular basis to assess how well students are doing with regard to certain learning goals.
Summative assessments are frequently only thought of in relation to formal tests like state exams, but they are also utilized in and play a significant role in continuous evaluation in the classroom. Summative assessment is a kind of accountability that is typically used in conjunction with grading at the classroom level. Summative assessment should be viewed as a tool to measure students' progress in relation to curriculum subject standards at a specific point in time.
Even if the data obtained from this kind of assessment is crucial, it can only be used to evaluate a few elements of the learning process because they happen after teaching every few weeks, months, or once a year. Summative assessments take place too late in the learning process for information to be shared in the classroom and for instructional changes and interventions to be made. To do this, formative evaluation is required.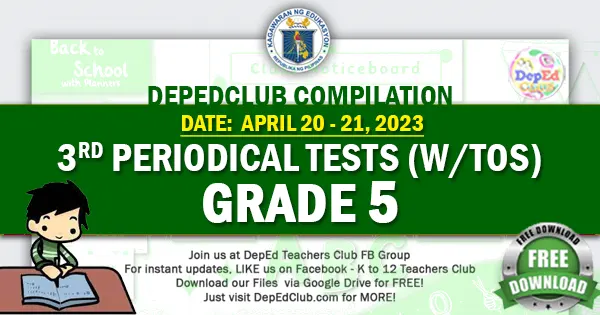 GRADE 5 – 3rd Periodical Tests with TOS
SY 2022 – 2023 Compilation
More Files uploaded regularly. Bookmark this page for instant access. Just Press CTRL + D in your keyboard to add this page to your bookmarks.
Also Available!
IMPORTANT GUIDE:
MORE DOWNLOADABLE FILES
We are always on the process of uploading new files.
For additional updates and unannounced uploads, please visit this section from time to time.
Like us on Facebook to get INSTANT UPDATES. CLICK HERE
You can also BOOKMARK this page in your web browser by clicking Ctrl+D in your keyboard for faster access in the future. Thank you fellow Teachers.
We at DepEd Teachers Club are always grateful to all our File Authors and File Contributors. Credit goes to all of them. Let us all give them thanks and show our support for all