To help teachers assess how well students understand the learning objectives, our collection of GRADE 4 – 3rd Periodical Tests with TOS SY 2022 – 2023 Compilation + MELC-Based Periodical Tests is available here. We want to finish uploading all of the K-12 Periodical Tests for All Subjects so that we may make them available to all teachers in need of them.
Upcoming uploads include MORE student assessment files. The files for the GRADE 4 Periodical Tests with TOS + MELC-Based Periodical Tests are located at the end of this article.
Assessment
The design and objectives of tests are typically standardized so that they can be used across several cohorts, time periods, and student populations. Schools and administrators can assess how well students understand the learning objectives by using data on individual students, cohorts, schools, or systems. They might also contrast them with alumni and students from other universities.
It is particularly crucial to ensure that the evaluation is consistent with the goals and anticipated outcomes of the training because summative assessments typically have higher stakes than formative assessments. There are currently used methods that can direct educators in the following ways to do this:
Utilize a table of specifications or rubrics. The expected performance standards for a range of grades can be laid forth by instructors using a rubric. The use of rubrics will give students a path and a sense of accomplishment by describing the ideal assignment and summarizing expected achievement at the start of the term.
Create questions that are simple and efficient. When creating essay questions, teachers can make sure that they adhere to standards while giving students the freedom to communicate their knowledge in original ways that respect how they ingested, created, or mastered meaning.
Determine Comprehensiveness. Effective summative assessments give students the chance to analyze the entirety of the material covered in a course, drawing broad conclusions, showcasing synthesizing abilities, and delving deeper into the principles that underpin the course's ideas and content.
Clarify the parameters. When approaching a final exam, instructors can make sure that the parameters are clearly defined (length of the assessment, depth of response, time and date, grading standards), that the knowledge being tested is directly related to the course material, and that students with disabilities are given the necessary space and support.
Take into consideration blind grading – Instructors may desire to know whose work they evaluate in order to provide feedback that speaks to a student's term-long trajectory. Instructors might also take into account a number of blind grading procedures if they want to offer fully objective summative assessment.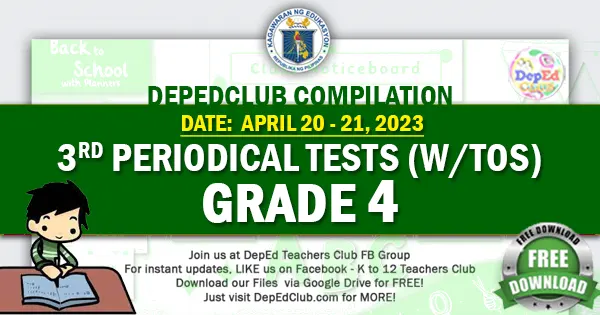 GRADE 4 – 3rd Periodical Tests with TOS
SY 2022 – 2023 Compilation
More Files uploaded regularly. Bookmark this page for instant access. Just Press CTRL + D in your keyboard to add this page to your bookmarks.
Also Available!
IMPORTANT GUIDE:
MORE DOWNLOADABLE FILES
We are always on the process of uploading new files.
For additional updates and unannounced uploads, please visit this section from time to time.
Like us on Facebook to get INSTANT UPDATES. CLICK HERE
You can also BOOKMARK this page in your web browser by clicking Ctrl+D in your keyboard for faster access in the future. Thank you fellow Teachers.
We at DepEd Teachers Club are always grateful to all our File Authors and File Contributors. Credit goes to all of them. Let us all give them thanks and show our support for all