To help teachers determine what the students have accomplished in relation to the learning objectives and the applicable national standards, our collection of GRADE 3 – 3rd Periodical Tests with TOS SY 2022 – 2023 Compilation + MELC-Based Periodical Tests is available here. We want to finish uploading all of the K-12 Periodical Tests for All Subjects so that we may make them available to all teachers in need of them.
Upcoming uploads include MORE student assessment files. The files for the GRADE 3 Periodical Tests with TOS + MELC-Based Periodical Tests are located at the end of this article.
Assessment
Assessments are typically formal and founded on particular information sources like exams, projects, and essays. The classical discipline of behaviorism is where assessment has its beginnings. Since teachers must grade their pupils and administer national exams, assessment is a crucial component of education today. Parents want them, educational authorities mandate them, and society as a whole utilizes grades to distribute job opportunities and career paths among numerous applicants, making grades an integral aspect of society.
Assessment techniques are criticized for not fostering high caliber learning. Tests administered using paper and pencil are the most typical method of gathering official evidence on students. Teachers frequently make the error of using test questions to assess memorization rather than higher-level thinking. Due to the fact that the test does not reflect how much the pupils have truly learned, this can call into question the earlier guidance. Additionally, if the test's subject matter is unrelated to education, pupils could not understand its significance, which could have a detrimental effect on motivation. Tests should be seen as a valuable component of the educational process, but they shouldn't be the main mode of evaluation. In order to reduce test-day anxiety and help students understand its significance, they should actively participate in the testing process.
Assessment summarizes what a student has accomplished in relation to the learning objectives and the applicable national standards at the conclusion of a period of time. Depending on what the teacher wants to learn, the time frame may change. The end of a topic, a term, a midterm, the conclusion of the year, or, as in the case of the national curriculum assessments, the end of a key stage, may all be the time for an evaluation.
A basic education assessment gives students, teachers, and parents a better grasp of the student's overall learning. These evaluations, which are most frequently associated with formal, timed tests, may consist of substantial essays, projects, presentations, artwork, creative portfolios, reports, or research experiments. These tests are intended to gauge a student's progress in relation to the subject's overall learning objectives as outlined in the pertinent curriculum standards.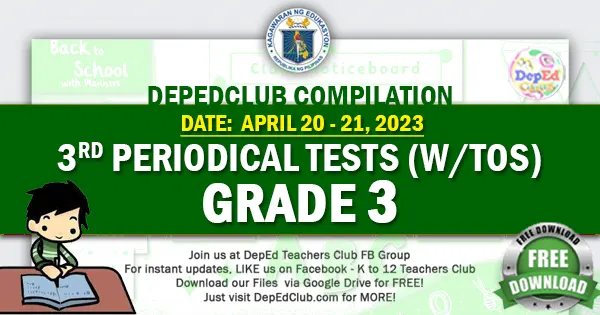 GRADE 3 – 3rd Periodical Tests with TOS
SY 2022 – 2023 Compilation
More Files uploaded regularly. Bookmark this page for instant access. Just Press CTRL + D in your keyboard to add this page to your bookmarks.
Also Available!
IMPORTANT GUIDE:
MORE DOWNLOADABLE FILES
We are always on the process of uploading new files.
For additional updates and unannounced uploads, please visit this section from time to time.
Like us on Facebook to get INSTANT UPDATES. CLICK HERE
You can also BOOKMARK this page in your web browser by clicking Ctrl+D in your keyboard for faster access in the future. Thank you fellow Teachers.
We at DepEd Teachers Club are always grateful to all our File Authors and File Contributors. Credit goes to all of them. Let us all give them thanks and show our support for all