To help teachers in identifying their students' typical lesson problems and growth opportunities, our collection of GRADE 1 – 3rd Periodical Tests with TOS SY 2022 – 2023 Compilation + MELC-Based Periodical Tests is available here. We want to finish uploading all of the K-12 Periodical Tests for All Subjects so that we may make them available to all teachers in need of them.
Upcoming uploads include MORE student assessment files. The files for the GRADE 1 Periodical Tests with TOS + MELC-Based Periodical Tests are located at the end of this article.
Assessment
Multiple choice tests is a highly effective testing method. A wide range of learning objectives are evaluated in a particular amount of time. Multiple choice questions make up 70% of the exam. Second, the final score minimizes the risk of prejudice introduced by teachers when grading students' scores. Because teachers cannot impose their arbitrary judgment on the answers, the outcome is more dependable and genuine. Thirdly, multiple choice tests let teachers more quickly identify pupils' common issues.
In the classroom, teachers might find that some students who performed well on paper-and-pencil tests have poor English communication skills and participate in class discussions less than others who speak well. Of course, a summative assessment cannot reflect a student's true proficiency.
Although it allows for speedy overall results, it is incomplete. It is obvious that a single exam cannot accurately reflect a student's level of learning. A short response test is preferred if the majority or all of the test items require basic recall from the pupils.
Tests with brief answers should replace some of the multiple-choice questions since they give students more room to think and encourage them to form their own opinions. They are capable of evaluation, synthesis, and analysis. Most importantly, formative assessment compensates for the irrationality and remorse brought on by summative assessment since it places a strong emphasis on encouraging students' enthusiasm, creativity, and critical thinking throughout the assessment process.
Different assessment methods and purposes exist. What we want to know and the purpose determine the types of assessments that should be used. Effective assessment requires that the type match the desired results, but this does not mean that there is only one alternative; rather, there are typically several.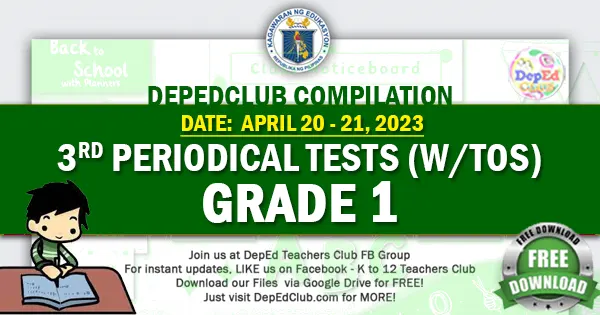 GRADE 1 – 3rd Periodical Tests with TOS
SY 2022 – 2023 Compilation
GRADE 1 3rd Periodical Test in ARALING PANLIPUNAN 1
GRADE 1 3rd Periodical Test in ENGLISH 1
GRADE 1 3rd Periodical Test in ESP 1
GRADE 1 3rd Periodical Test in FILIPINO 1
GRADE 1 3rd Periodical Test in MAPEH 1
GRADE 1 3rd Periodical Test in MATHEMATICS 1
GRADE 1 3rd Periodical Test in MTB 1
More Files uploaded regularly. Bookmark this page for instant access. Just Press CTRL + D in your keyboard to add this page to your bookmarks.
Also Available!
IMPORTANT GUIDE:
MORE DOWNLOADABLE FILES
We are always on the process of uploading new files.
For additional updates and unannounced uploads, please visit this section from time to time.
Like us on Facebook to get INSTANT UPDATES. CLICK HERE
You can also BOOKMARK this page in your web browser by clicking Ctrl+D in your keyboard for faster access in the future. Thank you fellow Teachers.
We at DepEd Teachers Club are always grateful to all our File Authors and File Contributors. Credit goes to all of them. Let us all give them thanks and show our support for all their works.
We are also thankful for all our File Editors, Sharers, Tech Volunteers and fellow Teachers for helping us and making this kind of service possible.