Republic of the Philippines
Department of Education
DepEd MEMORANDUM No. 112 , s. 2019
2019 NATIONAL TEACHERS' 'MONTH AND NATIONAL TEACHERS DAY/ WORLD TEACHERS' DAY CELEBRATIONS
To: Undersecretaries
Assistant Secretaries
Bureau and Service Directors
Regional Directors
Schools Division Superintendents
Public and Private Elementary and Secondary School Heads
All Others Concerned
1.The Department of Education (DepEd), in coordination with the National Teachers' Day Coordinating Council (NTDCC) and the National Teachers' Month Coordinating Council (NTMCC), will celebrate the National Teachers' Month (NTM) from September 5 to October 5, 2019,with October 5, 2019 as the National Teachers' Day (NTD) and World Teachers' Day (WTD). This year's theme is Gurong Pilipino: Handa sa Makabagong Pagbabago.
2. This is pursuant to Presidential Proclamation No. 242 entitled Declaring the Period from September 5 to October 5 of Every Year as the National Teachers' Month, as well as Republic Act No. 10743 entitled An Act Declaring the Fifth Day of October of Every Year as the National Teachers' Day and its Implementing Rules and Regulations, and the designation of the World Teachers'Day every 5th of October by the United Nations Education and Cultural Organizations (UNESCO).
3. As in the previous years, the celebrations aim to:
a. honor those who are in the teaching profession;
b. acknowledge and give emphasis on the crucial role, loyal service, and dedicated commitment of teachers in developing globally- minded citizens, nurturing families, strengthening communities, and building the nation:
c. revitalize the image of and respect for teaching as a vocation by increasing public awareness on the value of teachers in the Philippine society;
d. take the occasion as an opportunity in building the image of teaching as an attractive and fulfilling profession;
e. generate widespread support and assistance for teachers; and
f. express gratitude for the positive influences of teachers on Filipino learners.
4. All public and private elementary and secondary schools, including schools district offices, schools division offices (SDOs) and regional offices (ROs) are enjoined to follow the synchronized programs, projects and activities (SPPAs). On October 5, 2019, school-based celebrations, including the recitation of A Prayer for Teachers or Panalangin Para sa mga Guro shall be observed.
5. The Central Office (CO) shall conduct the NTD and WTD Celebrations on October 5, 2019 through a whole day program set at the Limketkai Event Center, Cagayan de Oro City.
6. All school heads, district supervisors, schools division superintendents (SDSs), and regional directors (RDs) are enjoined to actively lead all activities for the NTM, NTD, and WTD Celebrations.
7. All schools, school district offices, SDOs, ROs, and CO are required to post streamers with the required logo to ensure that the public is aware of the NTM, NTD, and WTD Celebrations. The digital files of the new streamer designs may be downloaded from www.deped.gov.ph/others.
8. In accordance with the SPPAs, all SDSs through the RDs are required to submit the following:
Particular       
a. Respective plans on NTD /WTD celebrations, foremost of which is the conduct of their respective culminating activity;
Deadline : September 2, 2019
b. Names and contact numbers of their respective schools division and regional coordinators for the NTM, NTD, and WTD celebrations; and
Deadline : September 2, 2019
c. Reports on the activities conducted by the schools, schools districts, schools divisions, and regions, which shall include clear photos and a comprehensive documentation of the various activities implemented.
Deadline : October 2, 2019
9. The ROs shall consolidate these requirements and submit to the External Partnerships Service-Special Events Unit (EPS-SEU), DepEd Central Office through email addresses: romeo.parayno@deped.gov.ph or spapo2012@gmail.com, for coordination and monitoring purposes.
10. All expenses relative to NTM, NTD, and WTD Celebrations shall be charged to local funds, subject to the usual accounting and auditing rules and regulations.
11. Compliance with the abovementioned requirements and the SPPAs for NTM, NTD, and WTD Celebrations shall be strictly monitored by the EPS-SEU.
12. Enclosed are the following documents for ready reference:
Enclosure No. 1 – Presidential Proclamation No. 242;
Enclosure No. 2 – Republic Act No. 10743; IRR (DO 46, s. 2016);
Enclosure No. 3 – Synchronized Programs, Projects, and Activities;
Enclosure No. 4 – Official Streamer Design;
Enclosure No. 5 – Official Logo Design;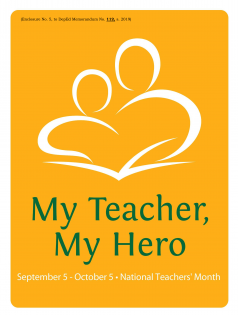 Enclosure No. 6 – A Prayer for Teachers; and
A PRAYER FOR TEACHERS
Giver of All Wisdom and Greatest of all Teachers,
Look upon our teachers with love
Grant them the resolve
To nurture our eager minds
And to never give up on us who fall behind
Bless their hearts For they rejoice when we succeed
And encourage us when we fail
Endow them with gentle patience
For the path of learning is never easy
Kindle a spirit of passion in them
It is the flame that ignites the love of learning in us
Help them see the potential in each student
Their belief in us means much more than the grade we make
Instil in them a commitment to keep on learning
It shows us to not fear new knowledge and experiences
Inspire them to touch the future
They influence how big a dream we dream for ourselves
Bless our teachers who have come before
For their work endures to this day
Let the light of Your example shine upon all teachers:
To build up with their words
To love with their mind
To share with their heart Amen
Enclosure No. 7 – Panalangin Para sa mga Guro.
PANALANGIN PARA SA MGA GURO
Tagapagkaloob ng Lahat ng Kaalaman at Guro ng mga guro
Bigyan po Ninyo ng pagkalinga ang aming mga guro
Biyayaan Ninyo sila ng kahandaang
Linangin ang aming murang isipan
At huwag magsawa kapag 'di makahabol ang turuan
Pagpalain nawa ang kanilang mga pusong
Nagdiriwang sa tuwing kami'y nagwawagi,
At nag-aalo sa tuwing kami'y nadadaig
Pagkalooban Ninyo sila ng mahinahong pagtitiyaga
Sapagkat ang landas ng kaalaman ay hindi madali
Pagningasin Ninyo sa kanila ang maapoy na diwang
Nagpapaliyab sa kagustuhan naming matuto
Tulungan Ninyo silang makita ang galing sa bawat mag-aaral
Wala sa marka ang halaga kundi sa pananalig nila
Ikintal Ninyo sa kanila ang walang pagkauhaw sa karunugan
At bagong kaalaman at karanasam ay 'di dapat katakutan
Turuan po Ninyo silang masiglang abutin ang alapaap
Kasinsigla at kasintayog ng sarili naming pangarap
Pagpalain po Ninyo ang mga gurong nauna sa amin
Ang nagawa nila ay napapakinabangan pa rin
Tanglawan po ng Inyong mabuting halimbawa ang kaguruan
Upang makapagtayo sila sa pamamagitan ng kanilang pangungusap
Upang makapagmahal sila sa pamamagitan ng kanilang isipan
Upang makapagbahagi sila sa pamamagitan ng kanilang puso
Siya nawa.
For more information, contact the following:
Tonisito M.C. Umali Esq.
Undersecretary
Legislative Affairs, External Partnerships,and Project Management Service
Department of Education Central Office
DepEd Complex, Meralco Avenue, Pasig City
Telephone No.: (02) 633-1940
                               Attention: Mr. Romeo B. Parayno
                                          External Partnerships Service-
                                          Special Events Unit (EPS-SEU)
                                          Department of Education Central Office
                                          Telephone Nos.: (02) 637-5832 to 34
                                          Email Address:romeo.parayno@deped.gov.ph
Immediate dissemination of this Memorandum is desired.
LEONOR MAGTOLIS BRIONES
Secretary
Copy of: 
DepEd MemorandumNo. 112 , s. 2019        
2019 NATIONAL TEACHERS' 'MONTH AND NATIONAL TEACHERS DAY/ WORLD TEACHERS' DAY CELEBRATIONS