Classroom Diagnostic Tests are set of assessment tools designed to provide diagnostic information in order to guide learning instruction and provide support to students and teachers. These assessment tools assist teachers in identifying students' academic strengths and areas of need. ( Diagnostic Test Compilation for SY 2023 – 2024 | Assessment Tools )
After Diagnostic Tests, ongoing informal and formal classroom assessment is also important. It is the bond that holds teaching and learning together. It allows educators to monitor teaching effectiveness and student learning. It can motivate and shape learning and instruction that can help teachers gauge student mastery of required skills. It can also help teachers determine whether students are prepared for tests that are used for high-stakes decisions that can help students improve their own performances
Students benefit from diagnostic tests when they understand learning goals and know what kind of assessments will be used to evaluate their achievements. It helps understand what criteria will be used to evaluate their work and what an ideal response looks like.
Before conducting diagnostic tests, it is important to:
Develop scoring guidelines for performance assessments that define what constitutes an acceptable response and establish clearly defined levels of performance
Share the scoring guidelines with your students before they take the assessment.
Discuss the guidelines with your students to ensure that they understand the kind of work expected at each performance level.
After conducting diagnostic tests, , it is important to conduct a post-test discussion with your students. This will give you the opportunity to correct misconceptions, discuss issues raised by the assessment, help students gain a more complete understanding of the material the assessment covered and discuss the different ways students responded to the task, and the strengths and weaknesses of each approach.
It is also important to be generous with feedback. A score alone doesn't give students sufficient
information about their performance on the assessment. It is important to tell students:
Their areas of strength and weakness
What they did correctly and incorrectly
What they can do differently next time to improve their performance
Assessment integrated with instruction is an extremely powerful teaching tool. Using assessment as part of the learning process instead of in a summative role at
the end of a teaching unit ensures that students understand the relevance of what they are learning and how that learning will be assessed.
In summary:
Potential benefits of the diagnostic test for students.
Promotes teachers partnering with students to set learning goals
Provides descriptive and timely feedback to students while in the process of learning and creating
Builds efficacy bringing students into the process of their own learning
Encourages goal‐setting
Potential benefits of the diagnostic test for teachers.
The benefits for teachers in using diagnostic test include the following:
Understand the strengths and needs of each student
Gain insight into students' strengths and needs during the school year, as well as focus their teaching for classes and grade level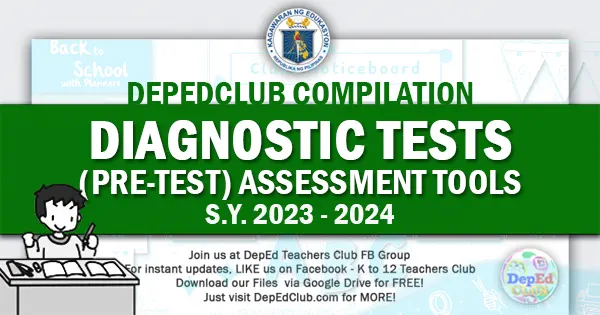 Diagnostic Test (Pre-Test) Compilation for SY 2023 – 2024
GRADE 1 Diagnostic Test
GRADE 2 Diagnostic Test
GRADE 3 Diagnostic Test
GRADE 4 Diagnostic Test
GRADE 5 Diagnostic Test
GRADE 6 Diagnostic Test
GRADE 7 – 12 Diagnostic Tests to be uploaded soon.
QUARTER 1: NUMBER 1 PERFORMANCE TASKS SY 2023 – 2024
GRADE 1 PERFORMANCE TASKS
GRADE 2 PERFORMANCE TASKS
GRADE 3 PERFORMANCE TASKS
GRADE 4 PERFORMANCE TASKS
GRADE 5 PERFORMANCE TASKS
GRADE 6 PERFORMANCE TASKS
IMPORTANT: HOW TO DOWLOAD FILES IN GOOGLE DRIVE
FOR MS OFFICE FILES:
1. Click on the file link in our website.

2. You will be redirected to the file location via Google Drive.

3. On the upper left side of your screen, Go to FILE menu. Click DOWNLOAD, then Select Microsoft Word for the editable file format.
FOR OTHER FILES:
1. On the upper right hand corner of your screen, look for the Down Arrow Download Button just as below:

If you encounter an Error while downloading the files, please Log-in to your Gmail account (Here – mail.google.com) , then try again to click the Download Link in Google Drive. Thank you.
Additional files to be uploaded soon.
We are always on the process of uploading new files.
For additional updates and unannounced uploads, please visit this section from time to time.
Like us on Facebook to get INSTANT UPDATES. CLICK HERE
You can also BOOKMARK this page in your web browser by clicking Ctrl+D in your keyboard for faster access in the future. Thank you fellow Teachers.
We at DepEd Teachers Club are always grateful to all our File Authors and File Contributors. Credit goes to all of them. Let us all give them thanks and show our support for all their works.
We are also thankful for all our File Editors, Sharers, Tech Volunteers and fellow Teachers for helping us and making this kind of service possible.