Dear fellow Teachers. In the past quarters, we shared Daily Lesson Logs and other files that our Contributors have shared and are formatted by our Editors. We are  now at the third quarter of the school year and we are really thankful to all our Contributors, Editors and Tech Volunteers. They are the foundation of DepEd Teachers Club. We are always grateful of them so we ask for your continued support. Please keep on sharing and liking our contributions until all of our fellow teachers all around the country could benefit from this works too. May more blessings come upon us all. Thank you.
New! 3rd Quarter Daily Lesson Logs are now available.
K-12 Daily Lesson Log guidelines for daily lesson preparation was hereby issued by DepEd to institutionalize instructional planning as a critical part of the teaching and learning process in public schools. These guidelines are meant to support teachers in effectively organizing and managing K to 12 classrooms to be genuinely responsive to learners' needs. These guidelines in the preparation of K-12 Daily Lesson Log shall instill reflective practice among teachers by providing them opportunities to think about and reflect on their instructional practices. K-12 Daily Lesson Log preparation is part of the teacher's core function as a facilitator of learning inside the classroom. Well-prepared and well-planned lessons are fundamental to ensuring the delivery of quality teaching and learning in schools.
K-12 Daily Lesson Log (DLL) is a template teachers from DepEd use to log parts of their daily lesson. The Daily Lesson Log covers a day's or a week's worth of lessons and contains the following parts: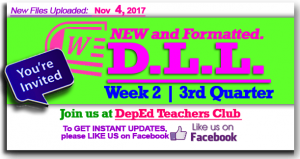 Objectives –  This part of the DLL includes objectives related to content knowledge and competencies. According to Airasian (1994), lesson objectives describe the "kinds of content knowledge and processes teachers hope their students will learn
from instruction (p.48)." The lesson objectives describe the behavior or performance teachers want learners to exhibit in order to consider them competent. The objectives
state what the teacher intends to teach and serve as a guide for instruction and assessment.
The content standards refer to the learning area-based facts, concepts, and procedures that students need to learn, while the competencies pertain to the knowledge, skills, and attitudes that students need to demonstrate in a lesson. The competency codes are also logged in this part of the DLL
Content – The topic or subject matter pertains to the particular content that the lesson focuses on.
Learning Resources –  This part of the DLL asks teachers to log the references and other learning resources that the teacher will use for the lesson. The references include the particular pages of the TG, LM, textbook, and the additional materials from the LRMDS portal. The other learning resources refer to materials such as those that are teacher-made, authentic, and others not included in the references. This part of the DLL can also include the supplies, equipment, tools and other non-print materials needed for activities before, during, and after the lesson.
Procedures – This part of the DLL contains ten (10) parts including:
a) reviewing previous lesson/s or presenting the new lesson. This part connects the lesson with learners' prior knowledge. It explicitly teaches the learners how the new lesson connects to previous lessons. It also reviews and presents new lessons in a systematic manner;
Remarks  – This is a part of the DLL in which teachers shall indicate special cases including but not limited to continuation of lesson plan to the following day in case of re-teaching or lack of time, transfer of lesson to the following day in cases of class suspension, etc.
Reflection – This part of the DLL requires teachers to reflect on and assess their effectiveness. In this part of the DLL, the teacher should make notes on the number of learners who earned 80% in the evaluation, the number of learners who require additional activities for remediation and those who continue to require remediation, the effectiveness of the remedial lesson, the teaching strategies or methods that worked well and why, and the difficulties teachers encountered that their principal or supervisor can help solve.
According to DepEd, the instructional process is made up of three (3)steps. This means that teaching begins even before a teacher steps in front of a class and begins a lesson.
planning instruction;
delivery of instruction; and
assessment of learning..
This also means that teachers are expected to be able to organize and develop a plan for teaching, implement that plan, and measure how effectively they implemented a plan.
To help our fellow teachers, K-12 Daily Lesson Log (DLL) files are now available for download. You can download the files easily.
No Adfly, safer and faster.
Just follow the links. God bless us all!
DLL UPDATE | Week 2 – 3rd Quarter – Daily Lesson Log (DLL)
We at DepEd Teachers Club are always grateful to all our File Authors and File Contributors. Credit goes to all of them. Let us all give them thanks and show our support for all their works.
We are also thankful for all our File Editors, Sharers, Tech Volunteers and fellow Teachers for helping us and making this kind of service possible.