A veteran lawmaker is calling for the adoption of a resolution seeking to honor Filipino teachers on the occasion of the 10th anniversary of the National Teachers' Month this year for their indispensable role in nation building.
Northern Samar Rep. Raul del Mar said the House of Representatives should take the lead in honoring and commending all Filipino teachers for their hard work and commitment in shaping the learners of all generations.
"This year, the National Teachers' Month (NTM) celebrates the 10th year "Gratitude In10sified" which encourages all sectors to express their gratitude for Filipino teachers through the 4 A's of gratitude–Appreciation (saying "Thank You"); Approval (recognizing teachers' best practices); Admiration (giving praise for their professional and personal impact in our lives) ; and Attention (taking heed of teachers' needs and concerns)," he said in filing House Resolution 2029.
The NTM, held annually from September 5 to October 5, is a multi-sectoral movement led by the Metrobank Foundation, the Department of Education (DepEd), and the partners in the academe, business, and civil sectors.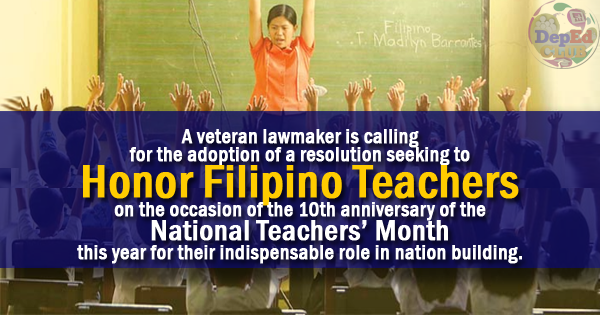 The movement started in 2008 as the Teachers' Month Campaign (TMC) by the Metrobank Foundation Inc. (MBFI), De La Salle Philippines, Philippine Business for Education, and Campaigns Social Response (CSR).
Under HR 2029, Del Mar said there is a need to "recognize the contribution of the private, academic and government sectors in uplifting the teaching profession through NTM movement which marks its 10th year of recognizing Filipino teachers and their indispensable role in inclusive and sustainable development."
In 2016, Republic Act 10743 was signed designating October 5 of every year as National Teachers' Day.
Under the law, all heads of government agencies and instrumentalities, including government-owned and controlled-corporations, especially those that are directly dealing with teachers, including local government units and employers in the private sector, are encouraged to participate in the October 5 celebrations.
The United Nations Education, Scientific and Cultural Organization (UNESCO) declared October 5 as the "World Teachers' Day" in recognition of the teachers' central role in the delivery of quality education and in preparing the youth in shaping their future.
Source / Credits:
By Charissa Luci-Atienza
Was this helpful? Like and Share for others too.