Manila Bulletin recently posted an article on "Why Public School Teachers Tend to Overborrow" and some teachers responded with sentiments and own experiences why this culture of borrowing even started on the first place.
Here is the article posted by Manila Bulletin written by Merlina Hernando-Malipot which was published last October 31, 2017.
In an attempt to find out why public school teachers tend to overborrow money from various lending institutions, the Department of Education (DepEd) will look into their "spending patterns" as well as into other possible factors why their propensity to borrow is higher compared to other government employees.

Education Secretary Leonor Briones, in an earlier interview, noted that as a researcher and an academician, she wants to find out more about the culture of borrowing among public school teachers. "I want to find out that's why I'm looking at their spending patterns and looking into their propensity to borrow compared to other households," she said.

Briones said aside from the unpaid loans, "the bigger problem is the propensity to borrow and we have to understand why does it happen and why is it happening in a more prevalent way than any other employee of government?"

Citing a study of the Philippine Institute for Developmental Studies (PIDS) on households, Briones noted that the propensity of public school teachers to borrow is 50 percent higher compared to other employees of the government such as the police and nurses.

"This is something that we have to understand," Briones said. "I have already been thinking about this, why is that so?" she added. Groups of teachers such as the Teachers' Dignity Coalition (TDC) and the Alliance of Concerned Teachers (ACT) have been claiming that the primary reason why most educators – particularly in the public sector – avail of so many loans is that their salary "is not enough for a decent living."

However, Briones said many public school teachers – especially those who been promoted and have spent long years in service – have higher salaries compared to other government employees. They also enjoy other incentives – both from the national and local governments. Among these are a two-month paid vacation during summer break, clothing and "chalk" allowances, Christmas bonuses, and performance bonuses.

Briones also noted that public school teachers – compared to their counterparts in small private schools in the provinces – are also paid "30 percent higher." And when compared to private schools in Mindanao, she added that public school teachers are also paid "50 percent higher."

"Another question is what do they spend their borrowed money on?" Briones said. Before, she noted that teachers borrow money to pay for the tuition of their children.

But now, based initial findings, Briones noted that teachers spend on a variety of things including travel abroad. "There's nothing wrong in traveling abroad but what is the choice that you will make? They have to make financial choices among themselves," she said.

Briones also noted that many public school teachers tend to continue borrowing even if they already have loans from various lending institutions.

"They are under the false illusion that they are under the P4,000 net take home pay but what they don't realize is that the loans accumulate," Briones said. One teacher, she explained, has P5,000 take home pay because "he has loans from seven lending institutions."

Aside from the possibility of not receiving any pay once they retire, public school teachers may also suffer sanctions – from mere reprimand to revocation of their licenses to teach – due to their unpaid loans.

Data from the Philippine Regulation Commission (PRC) showed that there are more than 500 pending cases versus teachers filed by various lending institutions in the past three years.

Source: Manila Bulletin
The following statements were sourced from the comments section of Manila Bulletin's article.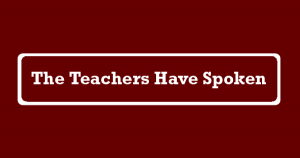 Man H :
"The organization itself allowed this to happen. Proof? Among the government agency DepEd is unique in having a policy of contracting private lending institutions to sign agreement with them to make automatic deductions for loans which will be taken by teachers. Remove this scheme then at least you remove one element in the culture you want to change. Another, in 1991 I first entered DepEd, It took one whole year for me to receive my salary. In private schools, one month after your employment, a teacher received right away the salary for that month. I left DepEd and came back ten years later, the practice of waiting for the salary is still not addressed. While the number of lending institution increased exponentially".
Zi Melanie:
"As a public elementary school teacher, I admit I made loans for:
my family to have our own house and not to rent,
to buy laptop, printer, lapel, mini projector which i use for my classroom instruction
to buy decoration, charts, plyboards for my classroom instruction cabinets, trashcan, cleaning materials etc…
lastly baon of my students who cannot afford to buy breads during recesstime…
Kaya po madaming loan dahil may yearly classroom management evaluation we need to buy things for the classroom and for the learning of the students…yan po b ay di p sapat bakit may loan ang teacher? Kindly observe po sa mga maliliit na public schools specially in provinces para po makita nyo tlga ang dahilan wag po kayong mag rely sa mga reports lng kung meron man pong maluhong pamumuhay mas madami po ang hikahos na pamumuhay makapagturo lang ng maayos thanks po".
"I spent 11 years of my life as a public high school teacher and I didn't receive enough financial support for purchasing a laptop (25,000), printer (3,600), microphone and speaker (5,000), and truckloads of classroom materials. The Education Secretary is biased when she believes that teachers use the money that they borrowed when going abroad. The fact will still remains that our salary is not enough to support our family and siblings. You can't hide the truth even though how much sugar coated statements you will brought out to the media. You should talk to teachers face to face and don't rely your findings on surveys".
"Speaking in behalf of the other teachers and as a teacher as well,, our salary isn't just ours or for our families, we also just give it back to the kids who goes to school that haven't eaten anything..those who don't have "baons" with them..those who doesn't have notebooks or pencils and other school supplies..another thing is, teachers are known to be the Jack of all trades, we are assigned to different coordinatorships, and we are expected to have an output from our coordinatorships like training the school choir for example, kids that have potential to sports but doesn't have the capacity to provide for himself in the financial aspect..and the department doesn't provide the financial support for that case..so the teacher, as the coach, or as the trainer, doesn't have a choice but to spend his/her own money to sustain..we are not overspending,,we just simply dont have a choice…."
Foxfirejks:
"Two months vacation during summer is just a part and parcel of what teachers should enjoy after being done with truck load of paper works, overnight enrolling of students for LIS due to snail speed of internet at daytime, spending more than 8 hours in school without overtime pay, home visitation without protection and security and many more.Not a teacher herself she will never understand what teachers are going through. One simple suggestion to help her find out the spending pattern of teachers is to find the root cause of all this mess".
"My mother was a public school teacher in a town, until she retired. I am aware that she and many others borrowed money — not for travels and wants , but for survival. One of the major reasons for borrowing? Delayed salary (early-mid '90s). I remember there were months when delay could reach 3 months! As a result, loan sharks would offer 'help' at 15-20% interest per month. This brought them into a quagmire of debt.
Plans of the agency may look good on paper and in the national level, but I hope a more stringent accountability system is in place to ensure that teachers to the towns/barrios are supported as they should.
Chalk? Cleaning implements? Etc… I am sure my mother and her co-teachers had to buy their own supplies, or had to get things from their houses to become 'classroom use.'
Sad, but this is a reality 🙁
In all of these, I did not hear mother complaining. She and my father, who was a farmer, managed to sent 5 children to college… and pay all debts, too!"
We are all teachers here. Please feel free to share your own stories and experiences on why we are all trapped in this Loan-don bridge.
Was this helpful? Like and Share for others too.