About 5,400 public school teachers and school personnel flocked to the Cebu City Sports Center to receive their annual P10,000 cash assistance from City Hall yesterday.
Shyne Alexis Antonio, Local School Board (LSB) executive assistant, said the recipients consisted of teachers, librarians and guidance counselors working in the city's 136 public schools.
"They are eligible to receive the P10,000 from City Hall's teacher's cash assistance program," Antonio said.
Antonio said those who were ineligible to receive the cash aid were those who were hired last June 1 to the present.
But some teachers had their cash aid cut to half after they received the 2015 cost of living allowance (COLA) disallowed by the Commission on Audit (COA). Antonio said those who received the COLA only received P5,000.
The P5,000 deducted by City Hall will serve as partial payment for their COLA. Based on City Hall's master list, not all the teachers got their allowance yesterday.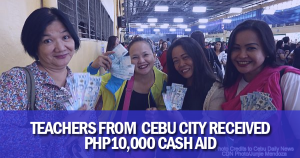 Antonio said those who were unable to receive the cash aid yesterday can still get their cash assistance until Dec. 22 next week.
"As per procedure, we can still give their cash assistance for one week," Antonio said.
Antonio said if they cannot get it within that week, it will be processed next year. "It will take time to process it," she said.
Previously [Related] Story:
Cebu City's public school teachers to get P10K aid if….
Despite COA disallowance
PUBLIC school teachers in Cebu City will be P10,000 richer today when they receive the annual financial assistance from City Hall.
"Rain or shine mo-release ta. Kadtong mga maestra nga bag-o ra sa service, full amount ang ilang madawat but those teachers who have received the COLA, mag-start na sa deduction (Rain or shine, we will push with the release [of the financial assistance]. Newly hired teachers will get the full amount but those who received the [2015] COLA will already start payment of their deductions)," said Councilor Joy Augustus Young, the chairman of the council's education and scholarships committee.
Distribution of the cash aid, which is part of the city's Teacher's Cash Assistance Program, will be held at 4 p.m. at the Cebu City Sports Center.
However, Young said that teachers who received their share of the Cost of Living Allowance (COLA) in 2015 will only be getting half of the city's allocation.
The other half amounting to P5,000 will be retained by City Hall to serve as partial payment for their 2015 COLA which the Commission on Audit (COA) disallowed.
Young said two more deductions of the same amount will be made in 2018 and 2019 respectively while the balance of P3,000 will be deducted in their 2020 cash assistance.
Teachers who are already due for retirement next year will not be getting anything from the city.
Young said their P10,000 assistance will be paid for their disallowance of P18,000.
COA disallowed the teacher's 2015 COLA since it is already incorporated in the basic pay of all government employees who are getting a regular pay.
Young said they are now preparing their appeal which they were expected to submit to COA in Friday afternoon.
Was this helpful? Like and Share for others too.