The  information technology consultant of the Supreme Court (SC) defended on Wednesday her supposedly hefty salary of P250,000 a month while working for the high court.
One of the justifications in the impeachment complaint filed against Chief Justice Maria Lourdes Sereno was SC's alleged anomalous hiring of IT consultant Helen Macasaet without public bidding.
During the resumption of House justice committee's hearing on the determination of probable cause in Sereno's impeachment, Macasaet said her salary as SC consultant was even lower than what she had been receiving in her previous projects and affiliations.
During the same hearing, Macasaet appears to be earning more than Sereno, the highest court official who receives a P233,857 monthly salary.
Answering questions from members of the House panel, Macasaet said the Government Service Insurance System (GSIS) paid her as high as P925,000 monthly when the agency availed her services for almost two years.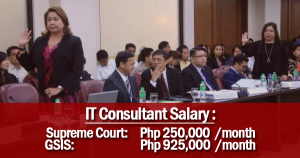 "During the database crash, the IT crisis at GSIS I was paid monthly more or less P925,000 from November 2008 to June 2010," Macasaet said.
Asked if she succeeded in solving the glitch that had hampered government employees' pension benefits, she said: "Yes, sir. It was all over the news, when teachers were not able to get their pension salaries; our pension system was crashing every minute, every second."
Macasaet said she gave "much less" of her salary in her previous work when she decided to accept the consultancy for the high tribunal.
In 2013, the SC hired her to improve the implementation of the judiciary's Enterprise Information Systems Plan (EISP) digitizing court documents and automating more than 2,700 courts nationwide.
Before joining SC, Macasaet earned P3 million yearly as president and chief executive officer of a local IT consultant company Pentathlon Resources Inc. She later decided to resign while doing consultancy for SC due to conflict of interest.
If the P250,000 salary she is getting from SC, Macasaet said she would only take home at least P80,000 because of the taxes and other allowances and operational expenses to support her work.
"The P250,000, you take out all the taxes, and then I have to pay for my own internet, buy my own laptop, pay for my gasoline, my toll fees, to pay for all my expenses to support my work," she said.
"I don't receive any allowance from SC unlike most employees and officials of the court, so excluding those personal expenses related to performing my work, I would be getting more or less a net of P80,000… It's not comparable to any salary packages received by employees of the government," she explained.
Ma. Lourdes Oliveros, Sereno's head staff, admitted that she was friends with Macasaet years before the latter got hired by SC.
Oliveros, however, denied influencing her boss to get Macasaet as consultant.
"Your honor, I can't influence the Chief Justice. The CJ cannot be even influenced by the President," she said.
"She (Sereno) herself is an IT proficient but she wanted to understand the immensity of EISP especially because it was stalled for a long time in the court," Oliveros said.
The camp of Sereno, meanwhile, maintained that the hiring of Macasaet was done "in accordance with the government procurement reform laws."
"Helen Macasaet has been an IT practitioner for 35 years. She was the Principal Consultant [during] the infamous GSIS crash, the biggest ICT disaster in the history of the Philippines. She fixed the ICT systems in GSIS and to date, the ICT architecture she had set up is still being used," Lawyer Josa Deinla, Sereno's spokesperson said.
"Macasaet received P900,000/month for this service. Usual private sector rates for IT consultants is P40,000/day or roughly P800,000/month," she pointed out.
Source / Credits:
By: Julliane Love De Jesus
Published: February 07, 2018
Was this helpful? Like and Share for others too.