National Capitol Region Police Office (NCRPO) director Chief Superintendent Guillermo Eleazar on Wednesday proposed to implement random bag and locker inspections in schools.
According to a report by GMA News' Tina Panganiban Perez on Balitanghali, Eleazar made the proposal to nip the country's drug problem in the bud.
He said that the 44,000 drug suspects arrested and the 234,000 who surrendered to authorities in the past 23 months are proof of the large scale of the drug problem in the Philippines.
Implementing the surprise inspections will help prevent the youth from getting mixed up with illegal drugs, Eleazar said, emphasizing that prevention is important.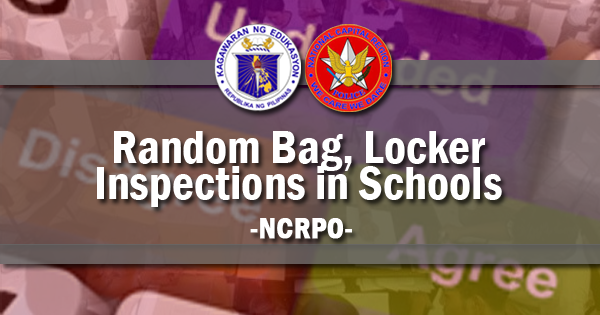 However, the ACT Teachers party-list is against the proposal, saying that its implementation might allow Oplan Tokhang to victimize students, the report added.
Department of Education Undersecretary Jesus Mateo, meanwhile, vowed that the agency will take care of the children and their privacy.
Source:
By Jessica Bartolome
Published June 6, 2018
DepEd Sec. Briones opposes random checks on bags, lockers of students
Education Secretary Leonor Briones is opposed to the proposed random checks of bags and lockers of students in connection with the government's campaign against illegal drugs.
Earlier Wednesday, National Capital Region Police Office head Chief Superintendent Guillermo Eleazar recommended conducting the surprise inspections in order to prevent students from being involved in drugs.
"I would have some reservations. It has to be strongly justified because the very idea of inspecting the properties of our learners and our teachers already is an admission that there is a suspicion. And there are ways, others ways of finding out," Briones said.
Briones said the DepEd is already conducting random drug tests on personnel, teachers and students in order to help curb the drug problem in schools.
Where the tests are conducted and who are picked to undergo the tests are strictly confidential, in accordance with the National Privacy Act.
"If a child or a teacher tests positive, first the test has to be done again. It is not a basis for expulsion, for suspension," Briones explained.
Source:
Was this helpful? Like and Share for others too.