ACT Teachers Reps. Antonio Tinio and France Castro have sought an investigation into the policies of the Department of Education (DepEd) on the promotion of teaching personnel.
In filing House Resolution 2061, the progressive lawmakers noted that the system of promotion is "one of the long-standing demands of public school teachers." They also urged the House leadership to take up the issue"to ensure the professionalization of teachers and the quality of education."
Teachers' career advancement, they added, is "hindered by the sluggish processing of promotion in DepEd, the imposition of numerous requirements, and certain limitations such as the scarcity of plantilla items for higher positions and the setting of ratios between teaching items."
"These problems in the system of promotion have kept teachers at the entry level or Teacher I position for almost 15 or more years, with many of them retiring as Teacher I," Tinio revealed in a statement on Thursday.
DepEd records as of 2017, as cited by the solon, showed that out of the total 687,229 teaching population, 360,205 or 52 percent are entry-level teachers while there are only 50,471 items or 7.3 percent of the total who are Master Teachers (MT I to MT III).
HR 2061 stressed that this problem is "exacerbated yearly with the allotment of few items for higher positions."
Under the 2018 budget, for instance, the allocation for the promotion of Master Teachers will only accommodate up to 344 Master Teachers.
"The 1987 Constitution mandates the government to 'enhance the right of teachers to professional advancement'. However, there is nearly no assurance for promotion or career progression in DepEd," the lawmakers lamented.
Another factor hindering promotion is that teachers are assigned to handle subjects outside their specialization or major "in the exigency of the service," Castro said.
"Moreover, DepEd rules on reclassification and upgrading of positions limit the number of Master Teachers and Head Teachers who can be promoted by setting ratios between teaching items," she added.
The resolution also cited that DepEd guidelines on promotion limit the number of Master Teachers I and II in elementary schools to a ceiling of 10 percent (6.6 percent for MT I and 3.3 percent for MT I) of the total number of Teachers I, II and III in the district (DECS Order 51, series of 1999)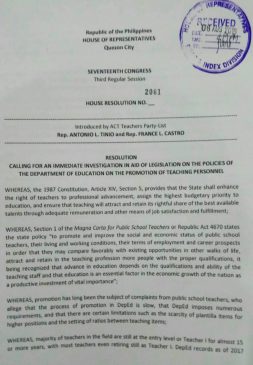 Source / Credits:
By: Pathricia Ann V. Roxas
Published: August 23, 2018
Was this helpful? Like and Share for others too.