While the education sector has seen notable gains this year, the Department of Education (DepEd) and the Commission on Higher Education (CHEd) agree that there is still much to be done to improve the overall quality of education in the Philippines.
This year's hosting of the Association of Southeast Asian Nations (ASEAN) has opened many educational opportunities for Filipino students. Likewise, it also puts the country's education system under scrutiny.
"In so far as basic education is concerned, we stand tall and walk together with our sister-ministries of education in ASEAN," said DepEd Secretary Leonor Briones. During the 2017 Philippine Education Summit, noting that while a good number of our ASEAN fellow ministries of education are catching up with the Philippines, "we are also trying to catch up with those who are ahead of us."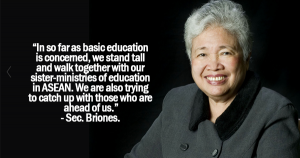 For the higher education sector, CHEd Chairperson Patricia Licuanan said that "globally, we stand about par with developing countries of our particular level and size." She noted that while the 25 percent enrollment rate is sufficient "we want this to grow."
"Compared to our ASEAN neighbors, we are somewhere in the middle – both in terms of participation rate and as well as in the quality of our universities," Licuanan said.
While the country's higher education is faring well, it needs more improvement. "I guess, the cup is half empty, it's also half full," she said. "We have to acknowledge that we have many good things going for our education system," she added.
One of these is the fact that the country's graduates remain desirable as reflected by the number of overseas foreign workers (OFWs) in all countries. "Our human resource is still very attractive and I think it's because of our education system," she said.
Licuanan noted that the Philippine higher education system is "half full [because] we have many good things" it is also "half empty" [because] we need to catch up in other areas. But, she stressed that "the good news is that we are committed to those goals."
The year that was
In separate interviews, Briones and Licuanan also shared their respective agency's achievements and challenges.
For Briones, DepEd's focus for the year 2017 was more on consistently bolstering its programs ensuring learners' welfare and access to education. In 2017, she considers the pushing through with K to 12 Program – particularly the Senior High School (SHS) Program – as one of the DepEd's biggest achievements.
"The achievement is really pushing through with the SHS despite the opposition," Briones said. "Our SHS program is not necessarily for the international market but it is for ourselves… our country is growing at a fast rate and we want to be competitive with other countries," she added.
Briones noted that the increase of two years in the country's basic education cycle "is really, I believe, a step in the right direction because we are more competitive right where we are and more competitive in the international market."
Pushing through with the K to 12, Briones said, was possible with the support of President Duterte. "From the time that he made the appointment, he really allowed us to [take the reign] but first, we had to convince him that we really need the SHS – that's very important," she said.
Another achievement under her leadership, Briones said, is on the management side – particularly in instituting financial reforms. "I introduced changes," she said. These changes include getting two Undersecretaries for Finance "to keep things moving" and increasing Bids and Awards Committees (BACs) to six.
Briones underscored the need to monitor DepEd's finances after it has been accused of underspending. "That's the unique challenge of DepEd because we start gearing up only in June [of the year] and so at that time, the level of accomplishment utilization was not as high as those of other agencies," she added.
Briones also considers being "very successful" in the international front.
Briones cited the Philippines' "Schools as Zones of Peace" campaign to the United Nations (UN). Recently, DepEd has also cooperated with Department of Foreign Affairs (DFA) in securing membership of the Philippines in the Executive Council of UNESCO.
"Imagine being chosen in a group of 190 countries, that is also something," she said.
Since her appointment, Briones has been very vocal and persistent in her advocacies to uplift the educational system of the country – one of which is the expansion of the Alternative Learning System (ALS).
Part of strengthening the ALS is the development of the new K to 12-aligned ALS curriculum in July which will enable ALS learners to easily go from one modality of learning to another — formal to non-formal. This new ALS curriculum was rolled out in the field last September.
Other programs and projects that DepEd had focused on in 2017 are the Indigenous People's (IP) Education, Special Education, the School-Based Feeding Program, the Child Protection Policy and the continuing efforts for education in Marawi.
Dealing with challenges
While 2017 has been a year of so "many gains," Briones admitted that the basic education sector continues to be hounded by perennial problems particularly shortage in facilities.
"We are dealing with shortage in facilities," Briones said. "We are trying to catch up for the year 2015, 2016 and 2017 but we are programming by 2018, we should have [addressed these already]…we have said that before that 2018 is the realistic target," she added.
Briones noted that with barriers breaking down – including the age and the physical barriers – teachers need to keep up.
What teachers should be teaching their students, Briones said, is analysis and creative thinking. "Teach them how to challenge established knowledge and principles…we need to go further [because] the children is the future," she added.
For Licuanan, the Republic Act 10931 or the Universal Access to Quality Tertiary Education Act can be considered both an achievement and a challenge.
"Basically, it's really working on the implementation of universal access to quality higher education…that's really a challenge," Licuanan said when asked about the biggest challenge of CHEd in 2017.
While the free tuition law is groundbreaking, Licuanan said that CHEd has met a series of challenges upon its implementation. "We started with R8 billion and it has been implemented for 2017," she said.
When the new law was crafted, CHEd and other related agencies had to develop the Implementing Rules and Regulations (IRR). The new law will now cover tuition and miscellaneous fees not only of State Universities and Colleges (SUCs) but also Local Universities and Colleges (LUCs) and Technical and Vocational Institutes (TVIs).
Source / Credits:
By Merlina Hernando-Malipot

Published 
Was this helpful? Like and Share for others too.