Salary Increase for Teachers 
President Rodrigo Duterte has asked the Department of Budget and Management (DBM) to find means to increase the salaries of teachers, Malacañang said Tuesday.
A salary hike for teachers was discussed by the President during Monday afternoon's Cabinet meeting, presidential spokesperson Harry Roque Jr. said Tuesday.
Roque said Duterte "could be aiming" to double the entry salary for teachers, just as Congress approved a 100-percent increase in the base pay of military and other uniformed personnel in government.
Roque said the proposal was "in connection with the second tax reform package" that will be submitted to Congress this month.
The said package deals with the reduction of corporate income tax. It also seeks to rationalize fiscal incentives in an effort to plug revenue leakages.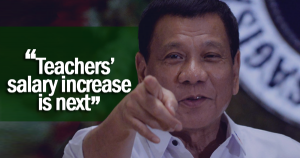 "The President also stated that with the second tax reform package, he has instructed DBM and all other agencies to find means to increase the salary of teachers after the initial doubling of salaries of the AFP and the police. So the teachers will be next," Roque said.
"He did not say how much but he says that they will have to be tangible results of any implementation of the second tax reform package and he said that that should be the increase in teachers' salary,"he added.
Source/Credits:
By Kathrina Charmaine Alvarez
Published January 9, 2018
Was this helpful? Like and Share for others too.