New! Week 9 – 4th Quarter – Daily Lesson Log (DLL).  All of these files are for FREE. Please keep on Sharing and Liking our contributions until all of our fellow teachers all around the country could benefit from this works too.   May more blessings come upon us all. Thank you.
A short background on DepEd Order 42, s. 2016 or the Policy Guidelines on Daily Lesson Preparation for the K to 12 Basic Education Program.
The new guidelines seek to enable teachers to deliver quality instruction based on the principle of sound instructional planning. They also seek to help teachers come to their classes prepared. Teachers with at least one (1) year of teaching experience, including teachers with private school and higher education institution (HEI) teaching experience, shall not be required to make a Detailed Lesson Plan (DLP). Teachers who have been in the service for at least one (1) year, handling learning areas with available LMs and TGs provided by the Department shall not be required to prepare a DLP. Instead, they shall be required to fill out a weekly Daily Lesson Log (DLL). Teachers are allowed to work together in preparing DLPs and DLLs. Seasoned or veteran teachers shall also mentor new or novice teachers in the preparation of DLPs and DLLs.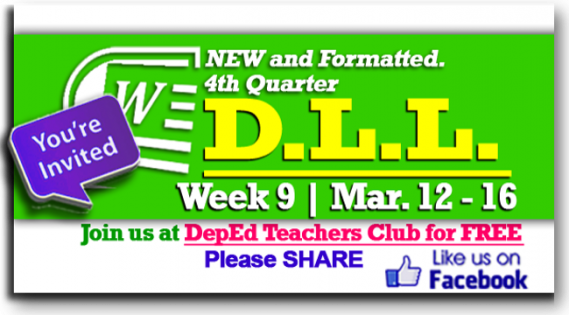 Research has shown that a common trait that effective teachers share is planning, preparing for, and reflecting on their teaching. The DepEd Order was issued to accompany the changes in the curriculum, and changes in the curriculum also require greater capacity in teaching. The DepEd is committed to ensure that its teachers are not only effective but also capable of delivering quality instruction on a daily basis.
In line with the implementation of Republic Act (RA) No. 10533 or the Enhanced Basic Education Act of 2013, the Department of Education (DepEd) issues the Policy Guidelines on Daily Lesson Preparation for the K to 12 Basic Education Program.
These guidelines also aim to empower teachers to carry out quality instruction that recognizes the diversity of learners inside the classroom, is committed to learners' success, allows the use of varied instructional and formative assessment strategies including the use of information and communications technologies (ICTs). and enables the teacher to guide, mentor, and support learners in developing and assessing their learning across the curriculum.
ICT integration
ICTs are basically information-handling tools that are used to produce, store, process, distribute, and exchange information (Anderson 2010). ICT integration in teaching and learning involves all activities and processes with the use of technology that will help promote learning and enhance the abilities and skills of both learners and teachers. With the availability of ICTs in schools, teachers can integrate technology in the planning, delivery, and assessment of instruction.
The use of computers can speed up the preparation of daily lessons. Lesson plans may be computerized or handwritten. Schools may also use ICTs to store the lessons that their teachers prepare. They can create a databank/database of lesson plans and feature exemplary lesson plans in the school website or submit exemplary lesson plans for uploading to the LRMDS portal. Teachers can then use the portal as a resource for their daily lesson preparation. This way, teachers can support each other by having a repository of lesson plans to refer to in preparing for their daily lesson.
Teachers can also integrate the use of technology into different parts of a lesson. Various instructional strategies and methods can be delivered using ICT equipment, peripherals, and applications. Teachers can plan learning opportunities that allow learners to access, organize and process information; create and develop products; communicate and collaborate with others using ICTs. Use of ICTs in lessons is also one way of differentiating instruction inside the K to 12 classroom.
K-12 Daily Lesson Log (DLL) is a template teachers from DepEd use to log parts of their daily lesson. The Daily Lesson Log covers a day's or a week's worth of lessons and contains the following parts:
Objectives: This part of the DLL includes objectives related to content knowledge and competencies. The lesson objectives describe the behavior or performance teachers want learners to exhibit in order to consider them competent. The objectives state what the teacher intends to teach and serve as a guide for instruction and assessment.
Content: The topic or subject matter pertains to the particular content that the lesson focuses on.
Learning Resources: This part of the DLL asks teachers to log the references and other learning resources that the teacher will use for the lesson. The references include the particular pages of the TG, LM, textbook, and the additional materials from the LRMDS portal.
Procedures
Remarks: This is a part of the DLL in which teachers shall indicate special cases including but not limited to continuation of lesson plan to the following day in case of re-teaching or lack of time, transfer of lesson to the following day in cases of class suspension, etc.
Reflection: This part of the DLL requires teachers to reflect on and assess their effectiveness. In this part of the DLL, the teacher should make notes on the number of learners who earned 80% in the evaluation, the number of learners who require additional activities for remediation and those who continue to require remediation, the effectiveness of the remedial lesson, the teaching strategies or methods that  worked well and why, and the difficulties teachers encountered that their principal or supervisor can help solve.
Source: Department of Education
DLL UPDATE |  Week 9 – 4th Quarter – Daily Lesson Log (DLL) (Mar. 12 – Mar. 16)
We at DepEd Teachers Club are always grateful to all our File Authors and File Contributors. Credit goes to all of them. Let us all give them thanks and show our support for all their works.
We are also thankful for all our File Editors, Sharers, Tech Volunteers and fellow Teachers for helping us and making this kind of service possible.