The Department of Education (DepEd) vowed on Saturday to work closely with the Department of Health (DOH) in monitoring the thousands of students who have been administered with the anti-dengue vaccine, Dengvaxia.
"As the health and safety of our learners are of principal importance, the [DepEd], in close coordination with the [DOH], will monitor the condition of learners who have been administered with the dengue vaccine Dengvaxia," the DepEd said in a statement.
"As a stakeholder, DepEd will likewise be actively participating in the review and consultations of DOH on the dengue vaccination program," it added.
The DOH has recently suspended its P3.5-billion anti-dengue immunization drive after pharmaceutical giant, Sanofi Pasteur, admitted that its vaccine, Dengvaxia, could lead to more severe symptoms for people who had not previously been infected.
The agency said more than 733,000 public schoolchildren 9 years old and above in three highly endemic regions—Metro Manila, Central Luzon and Calabarzon—have received at least the first of three doses of the first licensed dengue vaccine.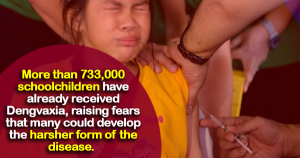 The botched program has drawn huge criticism from the public and government officials alike. In a Facebook post, former DOH undersecretary Dr. Susan Mercado said the program was the "biggest government-funded clinical-trial-masked-as-a-public-health-program scam of an experimental drug in the history of the DOH."
Several senators have called for an investigation into the issue to hold officials accountable for the mess.
Botched dengue immunization program angers parents, worries experts
Source:  Philippine Daily Inquirer – December 02, 2017
It's the perfect time to say "I told you so" and "It's too late."
Health experts are saying they were right after all in opposing the early implementation of an antidengue immunization program and parents are worried and angry about the dangers that lie ahead for their children who had received the vaccine whose manufacturer said could do more harm.
"We advised the Department of Health (DOH) leadership then, the Congress and Senate that mass vaccination is not advisable without a rigid selection or serological testings," said Anthony Leachon, a member of the DOH expert panel on dengue formed by Health Secretary Francisco Duque III's predecessor, Paulyn Ubial.
Leachon said the medical status of more than 700,000 children who had been vaccinated in Metro Manila, Calabarzon and Central Luzon is unknown since they were not checked for prior exposure to the dengue virus.
On Wednesday, pharmaceutical company Sanofi Pasteur admitted that its Dengvaxia vaccine could cause more severe cases of dengue for those who had not been previously infected.
"We will need massive surveillance program to track them," Leachon told the Inquirer in a text message.
"It means some of them will develop severe dengue, we don't know who. All of them will have to live with this possibility for the rest of their lives," he added.
The DOH suspended the vaccination program on Friday and ordered the close monitoring of everyone who had been vaccinated.
Health Secretary Duque, however, assured that Dengvaxia has a 30-month protection period for those who had been vaccinated, whether the person was previously infected or not.
The news spread on Friday, angering parents whose children had been vaccinated.
Razel Segovia Cablao of Malabon City has two daughters, aged 9 and 11, to worry about. They received Dengvaxia just five days before Sanofi released results of its study.
Cablao, whose daughters have not had dengue before, told the Inquirer they got the shots in the house-to-house vaccination project of Barangay Potrero.
"My husband and I thought we could have some peace of mind knowing our daughters would be free from sickness, then you find out that they're actually at a greater risk just because (the DOH) did not vet their vaccines properly," Cablao said.
She worried about getting the second and third shots for her daughters after several online reports said doing so would expose them to greater risks.
Aissah Andrada's 11-year-old son got his first shot in October at the barangay's health center in Pasig City.
"This could have been prevented if only the DOH did not rush implementing their program not knowing the full risks," said Andrada, who is from Cainta, Rizal province.
Both mothers said their children have not been stricken by any serious illness so far. They  plan to consult other physicians regarding the risks of completing the shots.
They wanted the DOH to release guidelines on what parents should expect and what they could do to minimize the risks for their children.
"The children should not be made to pay for the DOH's failure," Andrada said.
Esperanza Nocum's 14-year-old son received the vaccine back in August when local health center personnel gave free dengue vaccine shots at their barangay hall.
The 41-year-old mother from Caloocan City said she already had plans to have her son vaccinated so he would be healthy and safe from diseases, including dengue, which he has not had. The boy was born with a heart condition and had undergone a heart surgery.
She said she had planned to take him to a private pediatrician for vaccination but it would have cost her P4,000.
"So we grabbed the opportunity offered to us, and since it was from the Department of Health, I thought it was trustworthy," Nocum said.
However, after Sanofi made the announcement, she couldn't help but fear for her son.
"I thought I could have peace of mind since he is already vaccinated," she said. "I am so dismayed. What would they do now that the vaccine is already in my son's body?"
She said at least 100 children were vaccinated along with her son.
Like the other parents, Nocum was concerned about whether to get the next Dengvaxia dose scheduled for February.  —WITH REPORTS FROM TINA G. SANTOS, KRIXIA SUBINGSUBING, JHESSET O. ENANO AND JOVIC YEE
Citing risks, DOH stops P3.5-B dengue vaccine drive

Source: Philippine Daily Inquirer
By: Tina G. Santos
December 02, 2017
The Department of Health (DOH) has suspended a massive dengue immunization program and on Friday ordered the close observation of those who had received the world's first antidengue vaccine after its manufacturer admitted it could worsen the disease in some cases.
he French pharmaceutical giant, Sanofi Pasteur, announced on Wednesday that its vaccine, Dengvaxia, could lead to more severe symptoms for people who had not previously been infected.
Sanofi said that a new study has confirmed Dengvaxia's benefits for "those who had prior infection."
Program on hold
However, it added: "For those not previously infected by dengue virus, however, the analysis found that in the longer term, more cases of severe disease could occur following vaccination upon a subsequent dengue infection."
"In the light of this new analysis, the DOH will place the dengue vaccination program on hold while review and consultation is ongoing with experts, key stakeholders and the World Health Organization (WHO)," Health Secretary Francisco Duque III said in a press briefing.
Duque said WHO's Strategic Advisory Group of Experts  on Immunization would meet on Dec. 12 or 13 to discuss the latest developments.
The DOH said more than 733,000 public schoolchildren 9 years old and above in three highly endemic regions—Metro Manila, Central Luzon and Calabarzon—have received at least the first of three doses of the first licensed dengue vaccine under a P3.5-billion immunization drive, the world's first such program.
Mandatory history taking
The health chief said they would be closely monitoring the health conditions of all vaccine recipients under the immunization program, which started in early 2016.
There would be mandatory history taking of all vaccine recipients by the concerned rural health units, local hospitals, and even private health facilities, he said.
The DOH would also require hospitals to report cases of vaccine recipients being treated regardless of the symptoms.
"We need to ensure that we can monitor and conduct investigation on these cases while also providing supportive care if necessary," said Duque.
He added that officials would review the DOH contract with Sanofi and look into the circumstances surrounding the immunization program to determine if anyone should be held liable.
Health officials said the suspension of the dengue immunization program covers only state-run health-care providers.
"The private physicians have a different program altogether. It will be up to the health provider if he or she would like to put on hold implementing the program as well," said Benjamin Co of the Food and Drug Administration (FDA), which had licensed the vaccine and approved its use in the country.
Co said the FDA would also suspend the sale of Dengvaxia. Sanofi would have to apply for a change in product information in leaflets inside boxes containing the vaccine, he said.
Dengvaxia vaccines could not be sold until the product information has been changed, he said.
Duque allayed fears, especially of parents whose children had received the vaccine, particularly those with no prior infection.
Brazil, too
"The vaccine has a 30-month protection period against dengue, regardless if the child had prior infection or not," he said.
"For those who were infected prior to receiving the vaccine, there is a 93-percent reduction in severity of the disease and 82-percent reduction in hospitalizations," said Julius Leccioness, chief of the Philippine Children's Medical Center.
Lecciones said the other country that also embarked on mass vaccination, Brazil, reported no severe cases attributable to Dengvaxia and decided to continue its program.
There has been no "severe" case among those who had already been vaccinated and Duque said he was awaiting Sanofi's clarification of what "cases of severe disease" meant.
Khristine Estrada-Cabanayan, a Sanofi spokesperson in the Philippines, said the company was working closely with the DOH and would release a statement to address concerns regarding the vaccine.
Duque said the government had already paid Sanofi P3 billion for the vaccine.
The DOH still has 789,000 doses of the 300 million that were purchased. More than 500,000 are stored at the Research Institute for Tropical Medicine, which would expire in August next year, said Health Undersecretary Gerardo Bayugo.
Plunder charges
There are other stocks at the Philippine Children's Medical Center, in Region IV-A and in the National Capital Region.
Health advocates are pressing the DOH to file plunder charges against those who implemented the vaccination program.
Duque refused to comment without a review of all the documents and contracts and the circumstances surrounding the immunization program.
The massive program was launched under Health Secretary Janette Garin despite staunch opposition from several medical experts who said the DOH should wait until the study on the vaccine was completed and had enough safeguards for those who would receive it.
Dengue fever and dengue hemorrhagic fever, which are transmitted by the Aedes aegypti mosquito, are acute viral infections that affect infants, young children and adults. About 200,000 dengue cases are reported yearly, according to the DOH.
Was this helpful? Like and Share for others too.