MANILA — Department of Education (DepEd) Secretary Leonor Briones said she is in favor of salary increase for teachers, as this would provide additional budget for their daily needs and help them better manage their finances.
"I've always been in favor of salary increase (for teachers)," Briones told the Philippine News Agency.
However, Briones clarified that should there be an increase in teacher's salary, this should have a basis/matrix, emphasizing that the net pay that teachers should receive must be enough for their needs.
"I want their salaries to increase," she said, but also pointed out that a teacher's net pay must be studied carefully to cater to the teachers' needs while avoiding excesses at the same time.
For the Education chief, the PHP19,000 current basic salary of a public school teacher "is sufficient".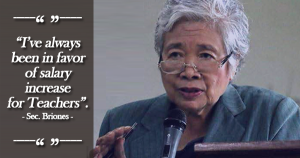 Briones recently signed the DepEd Order 55 ("Revised Guidelines on the Implementation of PHP4,000 Net Home Pay for the DepEd Personnel"), which prioritizes loan deductions due to the Government Service Insurance System (GSIS) and the Home Development Mutual Fund.
DepEd Order 55 ensures that teachers will have no less than PHP4,000 net in their monthly take home pay.
Earlier, Briones has expressed her desire for teachers to be financial literate, especially because at present, teachers from all over the country have PHP178 billion worth of loans from private institutions.
Aside from having its own financial literacy programs, the DepEd is also partnering with non-government organizations offering to organize financial literacy conferences with the agency.
DepEd's goal is to help teachers manage their finances, noting that many of them avail of loans.
In an interview with reporters, meanwhile, Briones said Senator Senator Paolo Benigno "Bam" Aquino IV is pushing for entrepreneurship and financial literacy for students.
"It doesn't matter how old you are," she said, adding that it's also good for students to be financial literate at a young age.
Aquino earlier expressed his wish that financial literacy be taught in public schools.
Aquino was reportedly expecting that money management, as well as business training would be taught in public schools next year. Apart from helping students manage their finances, the goal is also to encourage them to become entrepreneurs.
Source: PTV News 
Posted on 
Was this helpful? Like and Share for others too.