The Commission on Audit has ordered officials of the Philippine Health Insurance Corp. to refund P35.25 million in unauthorized benefits.
The decisions came two weeks after the issuance of two decisions affirming the notices of disallowance on illegal bonuses and allowances worth P183.86 million paid out to PhilHealth officials and employees in 2009, 2010 and 2014.
In the first decision, CoA's Commission Proper overruled the petition for review filed by PhilHealth's Region 4-A Office seeking the lifting of a Nov. 26, 2013 notice of disallowance that required return of P33.804 million in extra compensation released in January to May 2013.
Philhealth illegal benefits.
The sum included education assistance of P13.094 million, productivity incentive bonus of P13.062 million, grocery allowance of P2.774 million, hazard pay of P1.882 million, productivity enhancement of P672,500 and laundry allowance of P99,750.
Non-regular employees also received P2.22 million extra pay in the form of special events gift, efficiency gift and project completion incentives.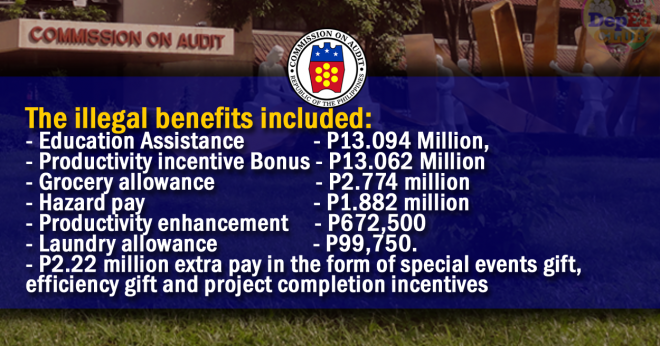 CoA flagged PhilHealth, saying the cash benefits were not allowed because they violated Administrative Order No. 365 and Department of Budget Circular No. 16 requiring prior approval from the Office of the President for any additional compensation.
​"The payments were also considered an irregular expenditure for violating… CoA Circular No. 85-55-A (Prevention of Irregular, Unnecessary, Excessive and Extravagant Expenditures or Uses of Government Funds/Property)," the decision read.
Under Notice of Disallowance No. 2013-004, those who were held liable were Region 4-A vice president Alberto Manduriao, fiscal controller Feliciana Pastorpide, division chief Miguel Macalinao, human resource management officer Oliver Inocencio, cashier Erlinda Pronton and "PHIC regular and contractual employees."
CoA denied the respondents' petition for review for lack of merit.
"The main source of the PHIC's operating budget comes from the contributions of its members. Like any other social insurance, the members' contributions are treated as a trust fund, and thus, should be managed and protected with utmost integrity… (and) should conform to laws and regulations governing public expenditures," it said.
In another decision, CoA also denied the appeal on the May 19, 2011 notice of disallowance against the grant of salaries, allowances and benefits of P1.446 million to the PhilHealth corporate secretary between September 2009 and December 2010.
It said the position was only created by the PhilHealth board's resolution approved on May 24, 2010 but ignored CoA's recommendation to first seek the imprimatur of the Department of Budget and Management and the Office of the President.
"On petitioner's invocation of fiscal autonomy, it bears stressing that fiscal autonomy does not mean absolute discretion… neither does it mean immunity from existing rules and regulations against irregular, unnecessary, excessive, extravagant or unconscionable expenditures or uses of government funds," it added.
Source / Credits:
Related Article: 
PhilHealth Owes Billions to Private Hospitals – Exec.
The Philippine Health Insurance (PhilHealth) owes billions to private hospitals across the country, a leader of the medical community claimed Tuesday as the agency faced investigation for alleged anomalies.
Dr. Rustico Jimenez, president of the Private Hospital Association of the Philippines (PHAP), said the agency's debt ballooned after it ordered hospitals to apply for reimbursement claims through an online portal.
"Ang sabi nila, 'pag ginamit namin ang e-claims, mas mapapabilis po ang bayad. Ngayon po, ang nangyari lalo pong na-delay ang bayad namin. Hindi po makapasok sa kanilang portal e," he told DZMM.
(They said if we use e-claims, the reimbursement will be quicker. But the delay in payments worsened instead. We can't even enter their portal.)
Some hospitals may shut down or refuse non-emergency patients if PhilHealth does not settle its alleged debts soon, Jimenez warned.
"Kung hindi pa po magbabayad ang PhilHealth by this time, or 2 weeks' time, baka marami nang magsara. Baka mag-ano na po kami, hospital holiday," he said.
(If PhilHealth does not pay by this time, or in 2 weeks' time, many hospitals may close. We may impose a hospital holiday.)
"Baka hindi na po namin tanggapin ang patients ng PhilHealth kasi po wala nang ipangtutustos ang ospital… Iyung mga emergency po tatanggapin namin iyun, pero iyung mga elective — iyung mga hindi naman po kailangan admit-in, check-up lang — siguro ibibigay na lang po namin iyun sa government hospitals," he added.
(We may also stop accepting PhilHealth patients because hospitals no longer have funds. We will only accept emergency cases and refer elective ones — those who won't be admitted and only need check-up — to government hospitals.)
Source / Credits:
By: Jamaine Punzalan 

Posted at 

May 08 2018 
Was this helpful? Like and Share for others too.