#WalangPasok Thursday June 7 2018.
Officials have announced class suspension for Thursday, June 7, 2018 as tropical depression "Domeng" continues to move north-northwestward over the Philippine sea.
Here is a list of class suspensions for Thursday, June 7, 2018. To get updated on  the latest list of areas with class suspension, please visit and refresh this page from time to time.
LIST of Class Suspensions:  As of June 7, 2018 –  6:35 AM
Announced Class Suspensions 
NCR:
 Quezon City (Mula kay Quezon City Acting Mayor Precious Hipolito-Castelo.
Provinces:
Cainta Rizal – All levels, public and private,  via Mayor Mayor Kit Nieto
Please standby for updates.
Sources:
====================
Mimaropa police on alert for 'Domeng'
Calapan City, Oriental Mindoro – Chief Superintendent Emmanuel Luis D. Licup, director of the Police Regional Office-MIMAROPA (Oriental Mindoro, Occidental Mindoro, Marinduque, Romblon, Palawan) yesterday ordered all unit commanders to activate "Oplan Saklolo," a disaster preparedness plan of the Philippine National Police (PNP) as Tropical Depression "Domeng" approaches the region.
Licup further directed all police units in the region to preposition disaster response troops, equipment and supplies in disaster-prone areas most likely to be affected by the weather disturbance.
According to Philippine Atmospheric, Geophysical, and Astronomical Services Administration (PAGASA), as of yesterday afternoon, "Domeng" was 700 kilometers east of Guiuan, Eastern Samar and moving northwest at 15 kilometers per hour over the Philippine Sea.
It packs a maximum wind speed of 45 kilometers per hour near the center with gustiness of up to 60 kilometers per hour.
The latest analysis showed that the combined effects of the Inter-tropical Convergence Zone (ITCZ) and the low pressure area (LPA) over West Philippine Sea will bring cloudy skies with occasional rainshowers and thunderstorms over Palawan, Visayas and Mindanao.
Based on the Department of Education's guidelines, classes in pre-school and kindergarten in both public and private schools are automatically suspended once public storm warning signal number 1 is raised.
When there is no storm warning signal, however, the decision to cancel classes is left to the discretion of local government units.
Source:
By Jerry J. Alcayd
Published 
Signal #1 : NO Classes in Kindergarten
Signal #2: NO Classes in Kindergarten, Elementary and High School
Signal #3 or Higher:  NO Classes in Kindergarten, Elementary and High School and College including Graduate School.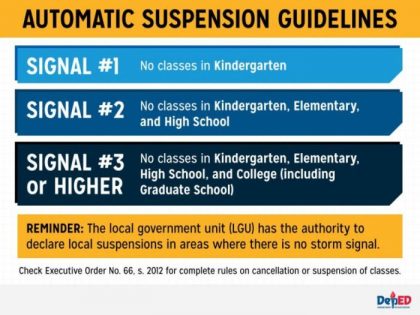 Was this helpful? Like and Share for others too.